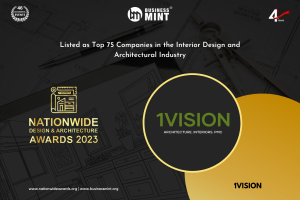 1Vision is a design based architectural and interior design consultancy firm with prime vision of creating environments which are functional , aesthetical as well ecologically progressive. 
The firm was founded in 2008 as a qualified team of architects , interior designers and engineers  led by Mr. Ravi Anand, a graduate – architect from School of Planning and Architecture ,New Delhi. Today the firm has established itself as an award winning  prominient name in field of residential, hospitality and commercial design consultancy with pan india projects.
The firm has successfully completed many projects across wide spectrum ranging from residences, farmhouses, hotels to institutional , commercial buildings.
With a philosophy of form follows function, 1Vision tends to create buildings which are aesthetical but are not superficial , the form of the building is directed by the function.
The design is based on ecological, environmental, social and cultural sensitivities