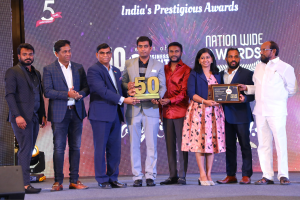 East-West Seed, India, is celebrating its 20th year of its journey in serving smallholder farmers nationwide. Set on a robust growth path, with a strong focus on quality and innovation, East-West Seed India is growing faster than the market and is one of the top five vegetable seed companies in India, today.
East-West Seed is focused on bringing high-quality, innovative products that meet customers' evolving needs and preferences. Speaking about this unique product introduction, G C Shivakumar, Country General Manager, East-West Seed India, said, " For us at East-West Seed, being innovative is a continuous effort. Over the last four decades, we have provided quality, locally-adapted vegetable seeds and the proper techniques to help smallholder farmers improve their yields, earn more for their work and stay healthy. As a pure-play vegetable seed company, we have the expertise and the resources to strengthen our market position further. We currently offer 170 varieties across 32 crops for Indian farmers and continue to expand in India with R&D centers, warehouses, people, and new products. Today, we serve more than 1.5 million smallholder farmers in India. They are vital to food security and nutrition, majorly in developing countries. Innovation and service for smallholder farmers are at the heart of everything we do and want to achieve."
East-West Seed India has helped more than 10,000 smallholder vegetable farmers by providing knowledge on better farming practices in high-quality vegetable seeds.
East-West Seed India was awarded 'The Best Vegetable Seed Company' by a reputed industry platform and also won 'The Emerging Brand of the Year 2021 – Agro" in the MSME category awarded by the Hon'ble Minister of State – MSME Shri Pratap Chandra Sarangi in 2022. East-West Seed India has received recognition as a Great Place to Work.