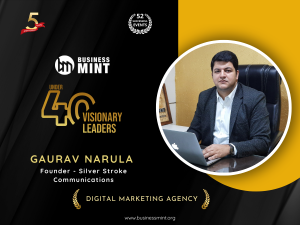 Gaurav Narula, Founder & Director at Silver Stroke Communications Pvt Ltd.
 Nurturing an entrepreneurial dream takes a lot of labour and even more courage to turn this dream into a reality.
With his humble roots in Jaipur, Gaurav always dreamt of being an entrepreneur. Embarking on the path set out by his passion towards digital marketing, he pursued his Masters from Symbiosis International University and then certification from IIM Ahmedabad.
His entrepreneurial journey began in the year 2014 with the inception of Silver Stroke Communications Pvt Ltd, and in the last 10 years, Gaurav has earned a reputation of being a marketing veteran for hospitality, education, real estate sectors, and the startup industry. Over these years he has worked for 200+ clients including Hyatt Hotels, Sarovar Hotels, Accor Hotels, IIT Ropar, Shiv Nadar University, Cars 24, Pay U & many more, and successfully executed more than 1000 projects, including 100+ launch projects.
 Translating the experience gained over an extensive career spanning more than 12 years, into knowledge bites, he is also a regular visiting faculty at many premier institutes.
In 2022, Silver Stroke Communications was awarded with the 'Best Digital Marketing Agency in Gurgaon' for executing effective & innovative digital marketing campaigns for its clients.
The culture at Silver Stroke Communications is very young, agile, and ever evolving, and their commitment towards innovation in design, motivates them to welcome new ideas to their team. Owing to this dedication towards the said purpose, the company looks for ways to give a chance to the young talents across the nation to test their capabilities and to hone their skills. Working on renowned clients empowers them with the right skillset and gives them the confidence to make a standing for them in the professional world.
 Silver Stroke Communications Pvt Ltd currently has offices in India (Gurugram and Jaipur) and Canada (Surrey).