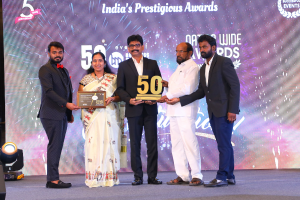 Empowering Businesses Through Comprehensive HR Solutions: JEDHRU Informatics Pvt Ltd
In the ever-evolving landscape of HR outsourcing, JEDHRU emerges as a beacon of excellence and innovation. Since its inception in 2011, JEDHRU has been at the forefront of redefining payroll outsourcing and HR services. Headquartered in Hyderabad and rapidly expanding across India, JEDHRU has become synonymous with unparalleled quality and commitment.
JEDHRU's core strength lies in its comprehensive approach to HR services, focusing on payroll outsourcing, statutory compliance, and Professional Employer Organization (PEO) and Employer of Record (EOR) services. With an unwavering emphasis on People, Process, and Technology, JEDHRU consistently delivers accurate, qualitative, and timely HR solutions. The company's team of seasoned Payroll Professionals not only ensures precise payroll processing but also significantly reduces costs for clients.
Central to JEDHRU's success is its cutting-edge cloud platform and a skilled support team with deep domain expertise. Dedicated account managers oversee end-to-end payroll processing, empowering businesses to navigate complexities without undue time, cost, or resource investment. From intricate Gross to Net Calculations to managing statutory deductions and final settlements, JEDHRU's holistic approach streamlines operations and liberates companies from administrative burdens.
JEDHRU's impact transcends the boundaries of traditional HR services. Notably, the company facilitates the seamless entry of foreign enterprises into India. By shouldering non-core responsibilities through their PEO and EOR services, JEDHRU enables businesses to focus on core competencies while expanding their footprint in a new market.
JEDHRU is not just a service provider; it's a strategic partner in businesses' growth journeys. The company's comprehensive solutions translate into tangible benefits for clients. By minimizing the complexities of payroll management, JEDHRU saves valuable time, reduces payroll costs, and eliminates the need for internal dependency. Moreover, their proactive approach to statutory compliance shields clients from hefty penalties.
As one of India's fastest-growing HR service providers, JEDHRU's influence extends beyond Hyderabad's borders. The company's dedication to accuracy, compliance, and innovation has earned it a reputation as a top-tier player in the industry. With an expanding clientele across the nation, JEDHRU is setting new standards for excellence in payroll outsourcing and HR services