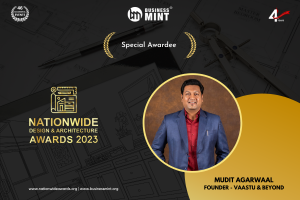 Can science or technology go hand in hand with spirituality? This is a question that has been on the mind of mankind since ages. Trying to find an answer to this through his own exuberant example, Mudit Agarwaal has succeeded in fine tuning the two. Associated closely with Chinmaya Mission and other spiritual organisations as a child he deeply soaked in spirituality through practices of Yog and Dhyan, this young entrepreneur feels blessed to be able to balance these prime aspects of his life – work, travel and meditation.
Mudit Agarwaal, is a child prodigy who started meditation at an early age of 9. One evening, when he was playing, Mudit's mother saw the neighbouring kids go for a yoga session and she sent Mudit along. As a young kid, he learnt the ancient practices of yoga, pranayama, and dhyana (meditation) that deeply impacted him. He continued his meditation practice and by divine grace he got the ability to heal people by the age of 11. Being naturally inquisitive, he started focusing on spirituality while simultaneously studying and working towards his family business. 
Besides being a successful Entrepreneur, he has always been very passionate about the ancient Indian Scriptures and has studied the Holy Vedantic Scriptures by undergoing a 2 Year Youth Empowerment Program by Chinmaya Mission.
An MBA from Narsee Monjee University in Mumbai, when Mudit talks business, as the managing director of Advaitaa Group, he sounds a thorough professional. Advaitaa Group is into the supplies of capital equipments and engineering solutions to large and medium industrial houses. Their primary focus is towards providing solutions that are energy efficient, chemical free and help in reducing the carbon footprint globally.
Keeping a hectic schedule this 35-year youth shells out time for one more activity with the magic of his energy techniques. In the field of Vaastu, Mudit is an Expert with an experience of over 22 Years and has over 2000 satisfied clients from across the globe.
To generate highly accurate readings, he uses the latest in technology energy reading equipment along with his intuitive abilities of clairvoyance (psychic ability where one can see energy) & clairsentience (psychic ability where can feel energy) and in-depth knowledge on this subject. 
Besides being an expert in Scientific Vaastu & Feng Shui Mudit is an Energy Healer, proficient in more than 50 healing modalities. He is a certified Reiki Grandmaster, Karuna Reiki Master, Magnified Healing Master, Pranic Healing Master, Bio Etheric Healing Master, Cosmic Healing Practitioner & Teacher, Clinical Hypnosis Therapist, Past Life Regression Therapist & Much More.
Due to his passion for authenticity and hunger for knowledge, Mudit has a deep understanding of what the scriptures say about Vaastu. Being a passion more than a profession, he feels it is his duty to share this knowledge with clarity and authenticity.