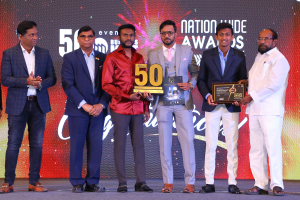 BMW WATER IS PURE, HYGIENIC AND WITH QUALITY AS THE HIGHEST PRIORITY, WE MAKE SURE THAT EVERY BOTTLE WILL PRESERVE ITS MINERAL COMPOSITION AND NATURAL TASTE FROM PRODUCTION TO TILL CONSUMED.
We have chosen our production plant at a strategic location, which is close to natural water reservoirs (i.e., Gandipet & Himayat Sagar) These reservoirs, have been the source of high-quality drinking water for centuries. Our plant is equipped with highly advanced and fully automated machinery with no human interaction eliminates the possibility of contamination and ensures the provision of pure and virus free bottled water with minimum water wastage. We have the largest bottled water production plant in Telangana state, with a current production capacity of 2 lakh litres per day.
Great Taste: While most people usually can't tell the difference, generally BMW bottled water tastes much better than other packaged Drinking Water. This is due to the robust purification process that the water undergoes the water loses the metallic taste which is present in tap water, hence the water tastes better than other packaged Drinking Water.10 Step purification process: Every BMW Water bottle goes through an extremely through and careful 10 step world class water purification process to ensure that every bottle of BMW water is pure and microbes free 100+QUALITY TESTS: BMW Water goes through 100+quality tests every week in our state-of-the-art laboratories to ensure the quality of BMW water always stays pure, safe, hygienic, virus and bacteria free.
Welcome to the refreshing world of New BMW Mineral Water & Beverages Company – where purity and innovation flow hand in hand. As Telangana's largest manufacturing plant, we pride ourselves on revolutionizing the way you experience beverages. Our commitment to excellence is mirrored in our fully automated and contactless manufacturing process, ensuring that every drop that reaches you is untainted and invigorating.
Join us in raising your expectations and redefining your refreshment experience. Welcome to New BMW Mineral Water & Beverages Company – where each sip is a journey, and every drop is a testament to our unwavering commitment to excellence.
Future Plans. As we Established our Company as the most trusted and Emerging in field of the packaged drinking water we are looking forward in Beverages we are also introducing Goli Soda, flavoured Soda, premium club Soda and many more.