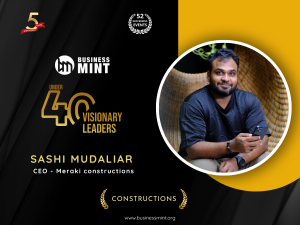 Hailing from a normal Middle Class Family, Sashi Mudaliar who has built a Brand for Quality and Thoughtful Designs in Real Estate and Construction Sector close to a Decade. Sashi hails a  Masters Degree in Real Estate Development graduating from MEASI Academy of Architecture ranked among Top Architecture College in  India. 
Before starting his Venture he has worked with Top Brands like  Amazon and Casa Grand. Which had given a wide Persona of Understanding the Real Estate Market in India.
In pursuing his entrepreneurial dream he wanted to start an Enterprise which will pass on the sustained Value Preposition in terms of Quality and Thoughtful Designs  for the common  people who dream about their Homes and Lifestyle. 
So he started successfully  his Enterprise MERAKI CONSTRUCTIONS in 2021. The company initially started its operations in Chennai and today successfully operating in Chennai and Bangalore and has plans to expand to Mumbai by 2025 and go on with PAN INDIA Presence. 
The enterprise found its space to assist and support  people dreaming to build their dream homes. 
With having lavish land cost in the cities in India Meraki helps people in achieving their dream homes in line with Lifestyle Design system along with Quality Constructions. 
Not all home builders hires an architect to Design their homes with prevailing construction cost and takes their own knowledge and risk interms of Designs.
At Meraki they offer their clients free Designs with Zero – Vaastu Defects , Dead Space and helps utilise the highest space utilisation which is major cost savings in their journey of Building Homes.
Having experienced the positive feedbacks and cry of joy from the customers the enterprise will spreads its wings in  products like Plots,Villa and Apartment and will be positioned passionately  in developing larger Gated  Communities and Townships by 2026
Favourite quote :
Dreams are free, the Hustle is sold seperately.