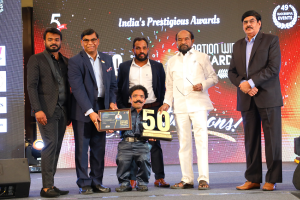 Shivlal, a remarkable individual hailing from Kukatpally, Telangana, has defied physical limitations and societal norms to become an inspiring figure in his community and the entire country. Standing at just three feet tall, this 42-year-old man has achieved a remarkable feat – he is the first person in India to obtain a driving license with such a unique physical stature.
For years, Shivlal had been dependent on public transportation due to his inability to drive, which subjected him to numerous challenges and social stigma. The mere act of commuting became an arduous task, marked by taunts and curious glances from onlookers. The mental distress that resulted from these daily encounters eventually led Shivlal to make a life-changing decision – he resolved to learn how to drive.
In a groundbreaking achievement, Shivlal successfully acquired his driving license, making history in the process. His determination and perseverance were truly exceptional. To equip himself with the necessary skills, he even travelled to the United States to learn driving, returning with newfound expertise.
Upon his return to India, the journey to obtain a driver's license was not without hurdles. Shivlal's unique physical requirements necessitated alterations to a standard vehicle. He collaborated with a local innovator in Hyderabad who modified a car to accommodate his needs, raising the pedal height to ensure that his feet could reach them.
The challenges he faced during the learning process were formidable. There were moments of discouragement, but a video of a man driving a car in America provided the spark that reignited his confidence. Shivlal displayed unwavering determination, applying to various driving schools despite repeated rejections.
Today, Shivlal's extraordinary achievement has not only earned him a place in the Limca Book of Records and the Telugu Book of Records but also serves as an inspiration to countless others facing physical challenges. Not content with his personal success, Shivlal has embarked on a new mission – teaching his wife to drive and, subsequently, opening a specialized driving school in the city. His vision is to empower individuals like himself to gain the independence and confidence that comes with driving.
Furthermore, his efforts have had a positive impact on government policy. The Telangana government, recognizing the need to accommodate individuals with unique physical requirements, has approved self-propelled vehicles without gears, furthering the cause of inclusivity on the roads.
In a world often bound by stereotypes and limitations, Shivlal's journey exemplifies the boundless potential of the human spirit. His resilience, determination, and the historic milestone of becoming India's first three-foot-tall licensed driver continue to inspire and break down barriers for others, proving that with unwavering dedication, one can surmount any obstacle life presents.