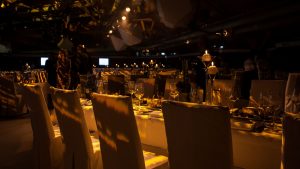 The entrepreneurial performance of the best companies plays a very important role in the worldwide growth and mobility of the economy. Companies are constantly facing increasing challenges because of the global competition growth. In the quest for constant improvements, awards celebrate people who have got outstanding results in their industries.
Awards provide your company with different perspectives while looking for the glass of competitors as well as how can you stand out in the crowd. The awards have various categories and selecting a category, which will highlight your business aptitude, will provide enormous benefits to the organization and improve your business credibility.
Let's take a quick look at why industry awards are important for your business:
1. Awards Help You Do Networking with the Top-level Businesses and Inspired Leaders
Amongst the finest ways of building a profile is through networking with like-minded people that will help you in creating a reputation as an expert and dependable business. During the award ceremonies, you can be exposed to the network of many business leaders of many industries. It will help you in increasing your knowledge as well as learn from the other's success and it will increase the partnership as well as result in new business opportunities.
2. Awards Help in Increasing Your Team's Morale
Employees contribute immensely to a company's success and winning a business award would raise the productivity levels and raise the feeling of achievement amongst them. Recognizing employees for the company's accomplishments will increase the company's morale as well as builds trust values in the business.
3. Awards Provide the Appreciation that You Deserve
Getting brand recognition helps immensely in the success of your company because it encourages the customers to remain loyal to the company. Being an award-winning company or an award-nominated business will increase your chances to build and strengthen partnerships. Awards bring an immense opportunity to exhibit your standards to the competitors and also your clients.
4. Awards Increase the profitability and Market Share
With the help of awards, the winners and finalists rule the market and become the finest brands. Moreover, earning industry awards also indicates that your company is recognized by related stakeholders that will certainly attract investors as well as cause new sales. Without a doubt, your margins and profits will be influenced directly by new acclamation.
5. Awards Provide Brand Recognition and PR Coverage
There are many PR advantages associated with winning awards and third-party endorsements. All these advantages are much more useful than the paid promotions made by a company. Also, award ceremonies always get coverage from different media like newspapers, magazines, social media, television, and radio shows. Winning the awards is an authorization that you have become successful in this highly competitive industry and it will give a good reputation to the consumers as well as other businesses that will produce more income for your business.
If you want to acclaim your company, then enter the Business Mint Awards! At Business Mint Awards, we have done a thorough research and set strict benchmarking to bring you Business Awards and top performance recognition. For all the brands, our awards have become a foundation of business knowledge as well as insight into the best practices as well as success secrets!