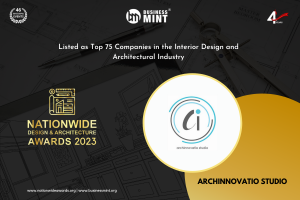 AI Studio, established in the year 2016 by its principal architect Mr. Arunava Nandy, is situated in the heart of Ranchi, the capital of Jharkhand. An architecture and design firm par excellence, the firm provides services in the field of Architecture, Interior Design, Landscaping, Structural Designs, and 3D Visualization. With futuristic plans to expand its horizon pan-India, currently they are serving across four states in India, namely Jharkhand, Bihar , Odisha and Chhattisgarh.
AI Studio has been involved with multifarious projects, ranging from private residence, apartments, hospital, hotels, commercial buildings ,water parks, commercial and residential interiors and many more. The diverse and energetic team is experienced in renovation of legacy buildings and modern structures to match up with the contemporary surroundings. AI Studio believes in "thinking outside the box, within the box".
With a strong determination to serve the society with innovative ,fresh designs and  architecture ideas, the founder architect of AI Studio, Architect Arunava Nandy, leads the firm with a passion to grow and excel. A first-generation entrepreneur, with a strong academic record from prestigious institutions across India, accompanied by the bachelor's degree in architecture, from Birla Institute of Technology, Mesra Ranchi, Ar. Arunava has always strived for perfection. He started as a freelancer, then joined service, at Mumbai, and later established his own firm at his hometown Ranchi. He circled to his roots to bring up his hometown on the design map of the world.
Ar. Arunava strongly believes that architects have a great social responsibility, and every built structure has a great impact on the day-to-day lives of the people. He considers architecture to be a reflection of emotions and feelings of the people and society, and not just a set of drawings to be executed. Therefore, all built structures should be meticulously crafted, in accordance with the demands of the immediate surroundings, and in sync with Nature. Architects should be fluid enough to innovate sustainable designs that maintain the environmental balance, while upholding the client's taste. He further defines architecture as an everyday learning that has to be nurtured lifelong. Every architect is responsible for his creation, which stands tall only after several hours of research, detailed study and meticulous planning of several aspects that directly or indirectly affect the society, the immediate surroundings, the nature, the climate, and gradually the entire city to state, to nation, to world.
At AI Studio, the focus is on client satisfaction. Each customer requirement is attended to on priority, with an aim to deliver what is expected and not what can be done. The team believes that architecture is not a one-way process but a joint venture between the architect and the client. With a strong aspiration to make the client's dream structure come true, the team is dedicatedly delivering exceptional designs and structures, to make it a beautiful world.