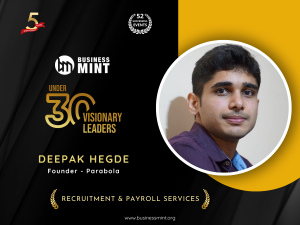 Deepak Hegde, an ambitious engineering graduate with an unwavering passion for entrepreneurship, has established himself as a prominent figure in the corporate world with his innovative start-up, Parabola. At the heart of this company lies an end-to-end recruitment solution and payroll management platform, catering exclusively to the corporate sector.
Parabola's primary objective is to streamline the often cumbersome hiring process while providing employers and corporate recruiters with a plethora of cutting-edge HR services. Their commitment to excellence is reflected in the wide range of options they offer to their clients, revolutionizing the way recruitment and HR processes are conducted.
One of Parabola's flagship offerings is the revolutionary Parabola Talent, a candidate hiring solution that has set a new standard in the industry. Leveraging advanced technology, this platform employs a distinctive voice-based approach that has proven to be highly efficient and time-saving. By eliminating traditional, time-consuming procedures, Parabola Talent enables employers to swiftly identify the most suitable candidates for their organizations, thereby optimizing the hiring process.
In addition to Parabola Talent, Deepak Hegde's brainchild, Parabola Voice, has garnered significant attention for its ingenious approach to HR management. This unique platform is specifically designed to reduce the workload of HR teams, allowing them to focus on more strategic tasks. By automating repetitive processes and providing an intuitive voice-based interface, Parabola Voice enables HR professionals to enhance their productivity and devote more time to critical decision-making.
Furthermore, Parabola extends its expertise beyond recruitment, diving into the realm of payroll management with its dedicated service, aptly named Parabola Payroll. Understanding the complexities involved in managing employee remunerations and ensuring seamless payroll processing, Parabola Payroll offers a comprehensive and user-friendly solution that ensures timely and accurate compensation distribution.
Deepak Hegde's entrepreneurial vision has also paved the way for Parabola Campus, an innovative segment of the company. Recognizing the importance of nurturing young talent, Parabola Campus is committed to connecting organizations with the brightest minds emerging from educational institutions. By bridging the gap between students seeking promising career opportunities and employers looking to tap into the potential of fresh talent, Parabola Campus plays a vital role in shaping the future of the workforce.
As a testament to Parabola's versatility and adaptability, another key segment, Parabola Outsource, has emerged to cater to various sectors in multiple locations. Through this offering, Deepak Hegde's company provides tailored staffing solutions, empowering organizations to find the perfect fit for their specific requirements, irrespective of their location or industry.
With a visionary at the helm and a team of dedicated professionals, Parabola has quickly become a go-to resource for corporate entities seeking to optimize their recruitment and HR processes. By seamlessly integrating cutting-edge technology with human-centric principles, Parabola exemplifies a forward-thinking approach to the ever-evolving corporate landscape. 
Parabola People gives user experience analysis and feedback of any kind service or product. Focusing on analysing the quality of service of product by taking feedback from the end user to maintain top quality or improve the quality.
In summary, Deepak Hegde's entrepreneurial journey has borne fruit in the form of Parabola, a trailblazing company that has revolutionized the recruitment and HR domain. Through its innovative platforms, such as Parabola Talent and Parabola Voice, the company has solidified its position as a trendsetter in the industry. Additionally, Parabola Payroll, Parabola Campus, Parabola People and Parabola Outsource further demonstrate the company's commitment to delivering comprehensive and tailored solutions to its diverse clientele. As Parabola continues to make significant strides in the corporate sector, Deepak Hegde's unwavering passion for entrepreneurship and dedication to excellence remain the driving forces behind the company's success.