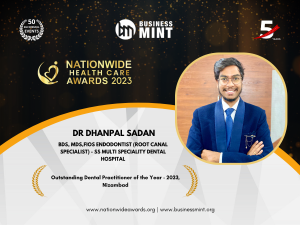 I am Dr.Sadan Dhanpal, founder of SS Multi-speciality Dental Hospital. Being a passionate Endodontist, I have started rural dental practice with the vision of creating an impact in the lives and oral health of our community. I feel elated to apprise that for the past two years, we, the team of SS Multi-speciality Dental Hospital have rendered oral health services to over 20,000+ patients, with 10000+ root canal treatments, 100+ full mouth rehabilitations, 50+ Smile designings, 50+ Laser dental treatments and many more. Apart from these, we have conducted over 10 free oral health camps for underprivileged children at various villeges.
Pain makes patient panic and worry taking any sort of treatment. I am an adept in painless treatment and I feel even more gratified with my patients' positive feedbacks.
As the saying goes, prevention is better than cure, and I'm a strong believer of it. In order to prevent the risk of cross contaminations, we make sure Universal precautions are followed at all clinical services with high-end equipment and sterilization measures.
Quality is our priority and we are happy to serve people with utmost care and compassion. We look forward to expand our practice with empathy and be responsive to the concern of every patient.