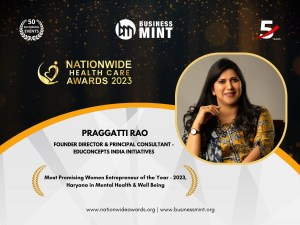 Praggatti Rao strongly believes 'Strategy is a commodity, Implementation is the art!'
Shaping the Future of Education – more so in the domain of Mental Health, Emotional intelligence, Personal Growth, CareerCounselling, Mindset shifts and Transformation coaching through Educoncepts India Initiatives… a 360 degree Counseling and Coaching People.
In the realm of well-being and mental health education, certain individuals stand out as true visionaries, dedicated to making a lasting impact on the lives of learners. 
Praggatti Rao, the Founder Director and Principal Consultant of Educoncepts India Initiatives, is undeniably one such trailblazer. With a profound commitment to enhancing the educational landscape and empowering both at personal and mental emotional levels.
Praggatti's journey has been marked by innovation, leadership, and a relentless pursuit of excellence.
Educoncepts India Initiatives, under Praggatti Rao's astute guidance, is a dynamic organization that strives to revolutionize education and create holistic learning experiences.
Through a combination of consultancy, research, and educational services, the initiative has become a beacon of transformation within the field of L&D, education and Psychological well-being.
Praggatti's educational journey began with a profound realization – that the traditional approaches to education were insufficient in preparing students for the complex challenges of the modern world. Armed with this insight, she embarked on a mission to bridge the gap between conventional teaching methods and the evolving needs of learners through proven multidisciplinary approaches and models.
At the heart of Educoncepts India Initiatives lies a commitment to innovative pedagogical practices. Praggatti Rao firmly believes that education should be a dynamic, evolving process, relevant, expansive and tailored to suit the unique learning styles and needs of each stakeholder. Her team at Educoncepts India Initiatives works tirelessly to develop and implement cutting-edge teaching methodologies that foster critical thinking, creativity, and lifelong learning.
One of the key pillars of Praggatti's educational philosophy is the integration of technology into the learning process. She recognizes the transformative potential of digital tools and platforms in enhancing educational outcomes. Through Educoncepts India Initiatives, Praggatti and her team have championed the use of technology to create immersive and interactive learning environments that engage students and inspire a passion for learning.
Praggatti Rao's impact extends beyond the classroom. She is a passionate advocate for teacher development and empowerment. Recognizing that educators play a pivotal role in shaping the future, she has designed and delivered numerous teacher training programs aimed at equipping them with the skills and knowledge necessary to excel in their roles. Her dedication to the professional growth of teachers reflects her commitment to creating a positive ripple effect in education.
Educoncepts India Initiatives also places a strong emphasis on research and consultancy services. Praggatti and her team conduct in-depth studies and assessments of educational institutions, helping them identify areas for improvement and implement effective strategies for growth. Through their consultancy work, they have partnered with a wide range of educational organizations, from schools to universities, to enhance their educational delivery and administration.
One of the remarkable achievements of Praggatti Rao and Educoncepts India Initiatives is their work in promoting inclusive education. They firmly believe that every learner, regardless of their background or abilities, should have access to quality education. Their initiatives have focused on making education more inclusive, breaking down barriers, and creating a welcoming and supportive learning environment for all.
In recognition of her outstanding contributions to the field of education, Praggatti Rao has received numerous accolades and awards. Her visionary leadership, innovative thinking, and unwavering dedication to improving education have earned her the respect and admiration of peers and colleagues in the industry.
As Praggatti Rao continues to lead Educoncepts India Initiatives into the future, her vision remains clear – to transform education, empower learners, and inspire positive change. Her commitment to innovation, inclusivity, and excellence sets an inspiring example for all those who share her passion for education. With Praggatti at the helm, Educoncepts India Initiatives is poised to continue making a profound impact on the world of education, shaping a brighter and more promising future for learners everywhere.