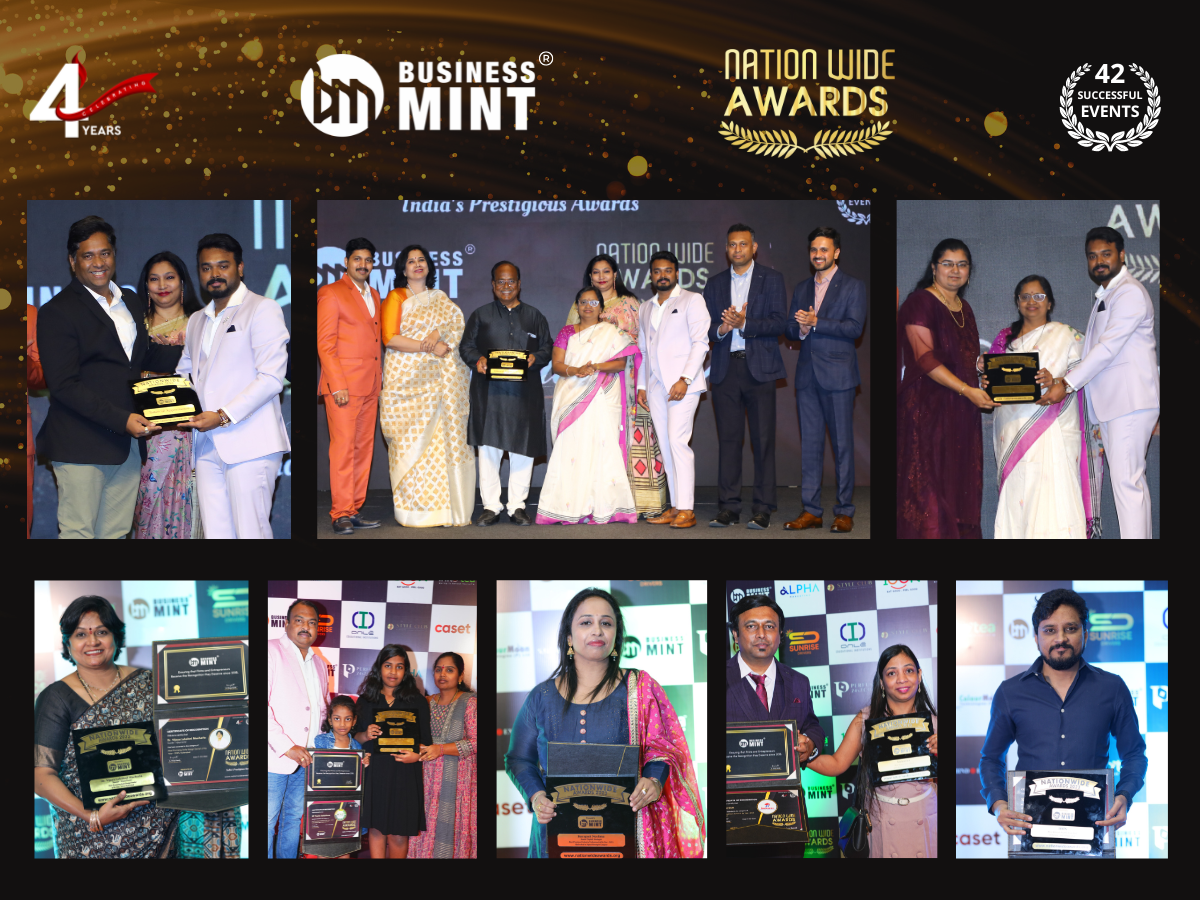 Hyderabad Hosts the NationWide Business Mint Awards 2023:
Entrepreneurs are a boost for the economy: Jeevanlal Lavidiya
100 successful personalities from different sectors across India were honored with Business Mint Prominent Award.
The Business Mint like to serve organizations and entrepreneurs for their professional advancements through a research and recognition approach.
Hyderabad, 17 February 2023: The Business Mint organized the 40th NationWide Awards here in HICC, Hitech City, Hyderabad on 17th February 2023. Business Mint, The Market research company was founded by Mr.Vinay Kanth Korapati. On the 42nd Nation Wide Awards Ceremony, Business Mint honored 100 successful personalities from different sectors across India who succeeded in their fields of business, Fashion, Hospital, Education, Social work, Health, Hospitality, Food industry, etc…
Mr. Jeevanlal Lavidiya, IRS Commissioner- Income Tax Hyderabad presented awards to the winners along with the guests of Honour personnel – Mr. J A Chowdary, Former Special Chief Secretary of AP, Ms. L. Ramadevi, OSD, IT Department, Telangana, Mrs. Karuna Gopal Vartakavi, President, Foundation for Futuristic Cities, BJP National Wing; Mr. Vijay Nadiminti, CEO AgHub; Mr. Rajesh Dhuddu, SVP & Global Head of Tech Mahindra; Ms. Sofia Haseeb Siddiqui, Mahila President – Bharat Rashtra Samithi; B.Subramanyam, CEO – ColourMoon Technologies;
The event marked range, this award nourishes abilities and helps the number of teams across the nation to be a motivated and wide platform for exploring networking prospects which helps to stabilize, and stimulate the growth of economical entrepreneurship' which adds a rich percentage to our country's GDP we're motivated, recognized and encouraged by business mint all the time.
On this occasion Mr. Jeevanlal Lavidiya said that government is for the people but it gets all the money contributed from companies, industries, and startups, it makes affairs of the government for the people. He further said that industries and startups are the backbones of our Indian financial system. He thanked them for creating jobs, extra services, and luxurious life for the people and a better world for the future.
List of "Nationwide Awards – 2023" Winners:
ORILL FOODS PVT. LTD. – Best Emerging Innovative Brand of the Year – 2023, in Instant Chutney Category
100N – Most Admired Healthy Food Joint of the Year – 2023, Hyderabad
Dr. Snigdha Gowd, Chairman & CEO – Dr.Gowd's Dental Hospital – Most Promising Orthodontist of the Year – 2023, Hyderabad
Sahaya Charitable Society – Most Prominent NGO of the Year – 2023, Hyderabad
Space Link Infra Pvt Ltd., – Outstanding Realty Service Provider of the Year – 2023, Hyderabad
CAR-O-MAN – Most Trusted Brand of the Year – 2023, Hyderabad in Car Detailing Services Category
Hrithik Singh, Founder – Krsna Associates – Best Emerging Luxury Interior Design Entrepreneur of the Year – 2023, Hyderabad.
Joanna Deepika Joseph, Founder – WIRED EXPRESSIONS – Most Innovative Event Stylist of the Year – 2023, Bengaluru.
Dark Events – Most Promising Event Management Company of the Year – 2023, Andhra Pradesh
DR.RJ's White Smile Cosmetic & Family Dental Clinic – Best Emerging Cosmetic Dental Clinic – 2023, Kochi
Shaina Mehra Wij, Founder – Bandwagon Communications – Most Prominent Woman CEO of the Year – 2023, New Delhi in PR Strategy & Consulting Category
HOMAA – Most Promising Modular Kitchen Brand of the Year – 2023, Hyderabad
English Partner – Best Online Education (English Course) of the Year – 2023
HIWAGA – Most Promising Luxury Beauty Clinic of the Year – 2023, Andhra Pradesh
The House Of Zareesh – Most Promising Dealer of the Year – 2023, Karnataka in Fashion Category
Tanishq Sah – Young Entrepreneur of the Year – 2023, Hyderabad in Uniform Manufacturer & Supplier Category
Zuvi Gifts – Best Emerging Company for Corporate Gifting – 2023, Vijayawada
Inscape Design Studio – Best Emerging Architecture & Interior Design Firm of the Year – 2023, Vijayawada
Sandy Jewels – Most Promising Jewelry Brand of the Year – 2023, Vijayawada
Yashvi Agarwal, Author – Emerging Young Writer of the Year – 2023, Hyderabad
Yashvi Agarwal, Founder & CEO – Luxemarcca – Emerging Young Entrepreneur of the Year – 2023, Hyderabad in Luxury Accessories Category
Elysian Industries Pvt. Ltd. – Most Trusted Company for Water Treatment & Solid Waste Management Solutions – 2023, Hyderabad
Ironhill Brewery – Most Admired Microbrewery Brand of the Year – 2023.
Dr. Regina Vincent – Most Prominent Leadership Trainer of the Year – 2023, Telangana
Finveda Wealth Pvt Ltd – Most Promising Financial Advisors of the Year – 2023, Hyderabad
Jakka Pranav Swaroop Naidu, Founder & CEO – Scintillate Informatics Pvt. Ltd. & Avi Eco Infra OPC Pvt.Ltd. – Best Emerging Young CEO of the Year – 2023, Hyderabad in Web & Software Development and Eco Product innovation Category
Vaaradhi Overseas – Most Prominent Company for Overseas Education – 2023, Hyderabad.
Dr.Rumana Sinha Sehgal, Founder – Serendipity – Most Inspiring Woman of the Year – 2023, Social Entrepreneurship & Innovation Category
Nahyr Sehgal (Meridian School for Boys & Girls, Banjara Hills) – Star Student of the Year – 2023
Kesariya's Sweets – Most Admired Sweet Shop Chain of the Year – 2023, Hyderabad
DIVA Interiors – Best Emerging Interior Design Studio of the Year – 2023, Hyderabad
Sukhii Group – Most Promising Real Estate Company of the Year – 2023, Hyderabad
Inflooo – Most Promising Influencer Marketing Company of the Year – 2023, South India
Sonorous – Most Trusted Music School of the Year – 2023, Hyderabad
NED – New Era Diagnostics – Most Promising Diagnostic Medical Services Chain of the Year – 2023, Hyderabad
Sim & Sam's Party & Playtown – Most Admired Children Play Center Chain of the Year – 2023, Hyderabad
Perfume 24×7.com – Retailer of the Year – 2023, Fragrance Category
Kurapati Neelima – Senior Digital Strategist – Most Prominent Industry Professional of the Year – 2023, Hyderabad in Digital Strategist Category
SPARK_Truly Glocal – Most Admired Beverage Brand of the Year – 2023, Hyderabad
Vinayak Sweets & Snacks – Fast Growing Sweets & Snacks Brand of the Year – 2023, Hyderabad
Global Pharma Tek – Most Prominent Company for Clinical Research &  Trading and Distribution of Pharmaceutical Raw materials – 2023, New Jersey
Capleo Global – Most Promising Company for Workforce Solutions – 2023, New Jersey
Country Chicken – Best Emerging Meat Brand of the Year – 2023, Hyderabad
Boini Vittal, Retail Business Coach, Founder & C.E.O – BVG Groups – Most Promising Retail Business Coach of the Year – 2023, Hyderabad
Joshua Motikya, Public Speaking Trainer,  Founder & CEO, Confident Corporate Speaker – Best Public Speaking Trainer of the Year – 2023, Hyderabad
Alankaran Weddings & Events Pvt. Ltd. – Outstanding Wedding Planner Company of the Year – 2023, Hyderabad
Physioshine Physiorehab Centre – Most Promising Physio Rehab Center of the Year – 2023, Hyderabad
Dr. Ravikanth Chittiprolu – Most Promising Serial Entrepreneur of the Year – 2023, Hyderabad
INNOTECH – Most Prominent Company for Power-Related Products – 2023, Hyderabad, Energy Saving Category.
Boring Banker Cafe – Best Emerging Coffee Brand of the Year – 2023, Guntur
Mohammed Siraj Nawaz Khan – Studio Architects Group – Most Innovative Architectural Professional of the Year – 2023, Hyderabad
Ishita Rai Goyal, Director – SONA MANDI, KRS Gold & Diamond – Best Emerging Woman Entrepreneur of the Year – 2023, Delhi in Jewellery Designer Category
Vdalph Tech – Most Promising Company for Information Technology Enabled Services – 2023, Hyderabad
BCR OXY AIR Enterprises – Most Promising Medical & Industrial Oxygen Suppliers of the Year 2023, Hyderabad
Divya Priyanka Neluballi, Fashion designer & Founder – PRILYN – Best Emerging Fashion Designer of the Year – 2023, Hyderabad
Ahamad Mastan Mukarrab, Senior consultant radiologist – Most Prominent Consultant Radiologist of the Year – 2023, Hyderabad
Sana Mulla, Makeup Artist – Most Promising Women Entrepreneur of the Year – 2023, Hyderabad in Makeup Artist Category
Ticket Factory – Most Promising Company of the Year – 2023,  Movie Marketing Category
Bite Blocks Dental®- An Advanced Dental Care Center – Most Prominent Dental Clinic of the Year – 2023, Hyderabad
Mythclickz Ad Creatives – Best Emerging Branding & Marketing Company of the Year – 2023, Bengaluru
Opinder Jain, Founder & CEO – FInOptic Capital Service – Most Prominent Entrepreneur of the Year – 2023, Hyderabad in Wealth Management Category
Prarthana School – Standalone School of the Year – 2023, Bengaluru
Lakshmi Budanoor Shivarama, Academic Advisor – Prarthana School – Most Inspiring Academic Educator of the Year – 2023, Bengaluru
Design N Develop By Danube Home – Excellence in Home Interior Design Solutions – 2023
Danube Home – Excellence in Home Improvement Solutions Retailer – 2023
SK Catering – Most Promising Premium Caterers of the Year – 2023, Hyderabad
Mohan Dental Clinic – Outstanding Dental Clinic of the Year – 2023, Hyderabad
Raghavendra Neelima Constructions, Mirra Panchajanya – Most Promising Affordable Premium Property of the Year – 2023, Hyderabad
Dr. Vijaya Lakshmi Macherla, Founder – Vijaya Dental – Most Promising Smile Design Dentist of the Year – 2023, Hyderabad
Osman Founder & CEO – OSM CONSULTING & 9 Summits Software Solutions Pvt.Ltd. – Fast Growing Entrepreneur of the Year – 2023, Hyderabad in Emerging Technology Consulting & Immigration & Visa Services Category
Dr. Moana's Clinic – Best Emerging Dental & Aesthetics Clinic of the Year – 2023, Hyderabad.
MARUTI DESIGN SOLUTIONS – Fast Growing Architectural Design Firm of the Year – 2023, Hyderabad
Dr. S Sravan Sethuram – Most Promising Entrepreneur of the Year – 2023, Hyderabad in Photography Category
Gusto – Emerging Italian Bistro of the Year – 2023, Hyderabad
The Funnel Hill Creamery – Most Admired American Desert Bar of the Year – 2023, Hyderabad
NP Pesto Solutions – Most Promising Company of the Year – 2023, Hyderabad in Pest Control Services Category
SecureKloud Technologies – Best Digital Transformation Partner for AWS, Google & Microsoft Azure
Deltra Global Profiles Pvt.Ltd., – Most Trusted Company of the Year-2023, Hyderabad in Fenestration, Windows & Doors Solutions Category
KAY-VEE – Most Admired DJ of the Year – 2023, Hyderabad
Mirza Wasim Baig – Most Prominent Sports Entrepreneur of the Year – 2023, Hyderabad
Mahua Sen – Most Inspiring Women of the Year – 2023, Hyderabad in Literature Category
Bezawada Dhaba – Most Promising Andhra Cuisine Restaurant of the Year – 2023, Vijayawada
Naveen EL-Mech Supplies & Works | Kirloskar Generators Dealer – Most Prominent Dealer of the Year – 2023, Hyderabad in Power Systems Category
CURIOUS CUB – Most Trusted Toy Brand of the Year -2023
Sunrise Driver Services – Most Trusted Company of the Year – 2023, Hyderabad in Monthly Drivers Category
NINE SOFTECH LLP – Emerging Technology Company of the Year – 2023, Hyderabad in Freelancers Category
Praveena Shyam – Most Promising Women Entrepreneur of the Year – 2023, Hyderabad in Interior Design Category
Niharika Kummari – Most Prominent Female Emcee of the Year – 2023, Hyderabad
INKO TEA – Fastest Growing Tea Franchise Chain Business of the Year – 2023
JSM Infra Developers – Most Prominent Real Estate Venture Developer & Landscape Contractor – 2023, Hyderabad
Prestyn Property Management ( Will Sree Group ) – Most Promising Facility Management Services Company of the Year – 2023, Hyderabad
Grotto – Best Emerging Coworking Coffee Lounge of the Year – 2023, Hyderabad
LE Godavari – Best Emerging Sweets & Home Foods Brand of the Year – 2023, Vijayawada
N+ Kids, Nizampet – Best Preschool Curriculum of the Year – 2023, Hyderabad
She Grubs – Best Emerging Nutrition Food – 2023
Mouna Reddy  – Fast Growing Women Serial Entrepreneur of the Year – 2023
Orite Group – Emerging Placement & Training Consultancy of the Year – 2023, Hyderabad
VRUKSHAKUTEERAM LANDSCAPE LLP – Most Prominent Company of the Year – 2023, Hyderabad in Landscaping Category
Tax Filling India ( Golden Tax filing Pvt. Ltd. ) – Fast Growing Company of the Year – 2023, Hyderabad in Legal Registration Services & Filings Category
VOIP OFFICE Telecommunication Pvt. Ltd. – Most Promising VOIP Service Providers of the Year – 2023
URBAN PLANTS PVT LTD – Emerging Company of the Year – 2023, Hyderabad in Gardening Services Category
Asit Kumar Sahoo, Senior Commercial Product Management  – Flexport – Most Prominent Industry Professional – 2023, USA in Product Management Growth Category
Sasi Kumar Raju Addepalli, MDM Technology Lead – Exact Sciences Corporation – Most Prominent Industry Expert of the Year – 2023, San Francisco in Data Management ( Healthcare ) Category
Amey Porobo Dharwadker, Machine Learning Technical Lead – Meta – Most Prominent Industry Expert of the Year – 2023, Machine Learning Category
Manoj Suryadevara, Staff Product Manager – Walmart Global Tech – Most Prominent Industry Professional – 2023, Product Management Category
Navneet Gupta, Co-Founder & CTO –  Verita Software, LLC – Most Prominent CTO of the Year – 2023, New York