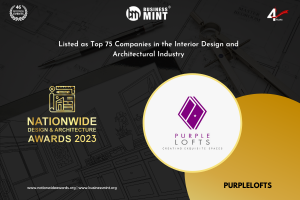 A PROFESSIONAL PAR EXCELLENCE
SUPREET BAJAJ, FOUNDER AND DIRECTOR, PURPLELOFTS, SHARES HER ONGOING QUEST TO BE A PROFESSIONAL & PERFECTIONIST IN INTERIOR DESIGNING & EXECUTION IDUSTRY
I stand by the principle to make unique and spectacular designs. To see joy and happiness in our client's eyes after getting their dream home is what true success means to me," says Supreet Bajaj, the Founder and Director of interior design and architecture firm PURPLELOFTS based in Pune, Maharashtra. A young and dynamic entrepreneur, she is known for transforming countless homes and offices into personal, classy, and chic spaces – high in innovative designs and elegant taste.
JOURNEY SO FAR 
A perfectionist and an achiever since her growing up years, Supreet graduated as a medalist & a university topper in Delhi. Soon after, she pursued her MBA from Symbiosis and worked for various esteemed MNCs in India. With diverse ideas and a keen eye for what is good design, she decided to dive deeper into the world of architecture and interior design as a professional. After heading design & execution teams in various organizations, to start her venture was a significant game-changer in her career span, and since then, she has never looked back.
EXPERTISE 
Young and full of ideas, Supreet operates PURPLELOFTS with an enthusiastic team executing residential and commercial projects all over India. The firm's expertise lies in designing small studios, apartments, villas, bungalows, and commercial spaces for corporate, hospitality and entertainment facilities. According to the entrepreneur, in an unorganized interior designing sector, PURPLELOFTS brings in a systematic designing and execution process that has successfully delighted hundreds of clients to date.
CREATIVE BELIEFS 
"Design is a beautiful expression of a person's personality and dreams that make a perfect space in an amazingly creative yet harmonious environment. Every project at PURPLELOFTS is a dream project for us, a dream that we all see with our open eyes. With our client-focused approach, we ensure to deliver unique and beautifully designed projects to our clients, '' says Supreet. The client remains an integral part of the entire design and execution phase, and this is evident from the fact that PURPLELOFTS has successfully delivered more than 900 projects to date & designed Lacs of Sq. Mts. of space.
WORKING FOR A MISSION 
Inspired by 'Make-in-India' and 'Atmanirbhar Bharat' mission and aligning with it is what PURPLELOFTS aims at as this helps in generating employment for the young designers and project engineers across the nation. Keeping up with the mission, PURPLELOFTS stands tall by providing jobs and growth to its strong team of more than a hundred people across various fields.
VISION With a future full of opportunities and responsibilities, Supreet has a clear vision in place. "Our vision is to be a UNICON company in the next five years. With our creative design instinct and aspirations, we wish to deliver hundred dream homes every month. We also aim at exploring varied designs, unconventional themes, and products. Not only this, our vision is to venture into unconventional furniture and execute them in India," she sums up
PURPLELOFTS 
B 309 Panchshil SOHO, Near Panchshil Towers, Kharadi, Pune – 412207 
Email: sales@purplelofts.com Contact: 9049001039 
Website: www.purplelofts.com
https://www.facebook.com/PURPLELOFTS.Interiors/
https://www.instagram.com/purplelofts/?igshid=YmMyMTA2M2Y%3D
https://twitter.com/PurpleLofts?t=bQA0XDC37jI3zSGcq6rAjQ&s=08