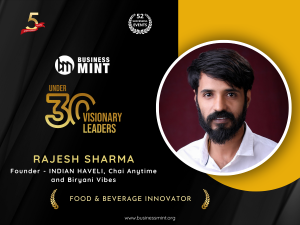 Rajesh Sharma, Founder – INDIAN HAVELI, Chai Anytime and Biryani Vibes

I am a passionate and self driven individual with a strong work ethic. My motto in life is to dream big and work hard to achieve those dreams. I began my journey in a small village called Jehanabad in Bihar, where the concept of business was unheard of. However, I always harbored a desire to do something different and make a positive impact.
I hail from Bihar. In Bihar, a child from a middle-class family has only three career choices – engineer, doctor or IAS. I came Bangalore for engineering in M.S. Ramaiah institute of Technology. My entrepreneurial aspirations took shape while I was studying in college Despite lacking the financial resources to start a business immediately, I decided to pursue a career in the IT industry and joined a renowned company like HP as a software engineer. For the next 3-4 years, I dedicated myself to my job, but deep down, I felt that it wasn't my true calling.
My true passion lay in creating job opportunities for others and helping those who were struggling to find employment. With this vision in mind, I made the courageous decision to leave my stable job and embark on my entrepreneurial journey. I wanted to make a difference and contribute to society in a meaningful way.
Presently, I am the proud owner of Indian Haveli and Biryani Vibes, two successful ventures in the real estate and food & beverages industries, respectively. Additionally, I have also established two outlets of Chai Anytime, a brand that aims to provide quality tea experiences. Moreover, I have three more projects in the pipeline, as I continue to expand my entrepreneurial endeavors.
I firmly believe in the importance of finishing what you start, and I am committed to realizing my dreams and making a positive impact on the lives of others. With my relentless passion and determination, I strive to inspire others to dream big, work hard, and never give up on their aspirations.