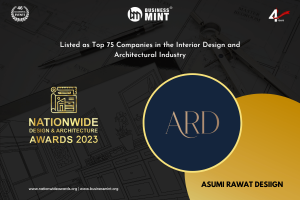 AsumiRawatDesiign – Transforming spaces into Simply Beautiful Living
ARD is an interior design firm which is committed to creating exceptional and unique spaces that tend to inspire, captivate, and elevate one's senses. With a strong passion for design and a commitment to achieve excellence, we have established ourselves as a trusted firm in the industry. Our team of talented designers combine creativity, skill, and a profound understanding of our clients' needs in order to deliver remarkable interiors that will truly reflect their distinctive vision.
Having passed out from Academy of Architecture in 2000, with over 23 years of experience in the field, first as a freelancer and now being the principal architect of ARD. I have acquired a huge amount of expertise and command in interior design. My firm being 8 years old has successfully completed a number of high end residential, bungalows, commercial as well as hospitality projects, which are  tailor made to our clients' requirements and specifications. Our portfolio truly showcases a diversity of styles, right from contemporary and minimalist to timeless and modern designs, featuring our originality and ability to adapt to any desired design.
At ARD, we strongly believe that exceptional design is definitely the result of a collaborative process. Hence, we always work closely with our clients in order to be able to understand their tastes, lifestyle and preferences, making sure that every single aspect of the design echoes their personality, while keeping in mind one's comfort and happiness. Our strong relationship and direct communication with clients help us create spaces that not only meet our clients' needs and expectations but exceeds them.
What makes us unique is our understanding that truly remarkable spaces are created only by keeping in mind the small details. Right from selecting the colour palette to sourcing unique furniture and other materials, as our designers pay close attention to every detail and aspect of the design. We always believe that a well curated space and design tells a story, and we aim to create such environments, spaces and designs which are aesthetically pleasing yet meaningful and extremely comfortable to live in.
At ARD, we incorporate sustainable design practices by using eco-friendly materials, energy saving solutions and environmentally mindful design practices into our projects. This not only helps the well being of our clients but also contributes to a greener future.