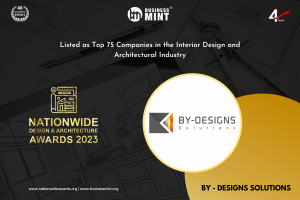 I, Ar. Abhishek Gupta founder and principle architect of By-Designs Solutions. It is an Architecture and Interior Design Firm. I have persuaded my graduation from Mumbai in Bachelors in Architecture and Bachelors in Interior Designing in year 2012. 
We offer a one stop solution in field of architecture and interior design under one roof. As our name suggests, everything here goes by designs. We work in harmony with clients' brief ,its economics, rules, nature, creativity and innovative design approach to achieve the needful. The design process is based on individual's need, thoughts, ideas and inspirations. Many factors influence the process, but ultimately, the design is the reflection of an individual's personality and skills developed over the time with experience.
I believe an architectural project is a blend of the efforts and good will of several stakeholders in the project, beginning from skilled workers to contractors; To the draftsmen; to visualisers, to the Architect, as Design Developer. Architect as consultant; the chief co-ordinator, the one developing the design from the concepts; from the manufacturers, to the vendors, from the ones procuring materials, to the ones documenting.
Our team works on the values of determination, dedication, devotion towards the client, which help us provide the excellent solutions and best craftsmanship in our work. The underrated and undervalued project, which the experienced architects denied its feasibility and planning constraints, have been taken care by us. We have showcased the field that we stand out with our working techniques and exclusive designs. It become our basic style of working. We could establish a working harmony with varied range of projects such as residential high rise, bungalows, recreational, institutional, and many more.. 
Our vision is to express the authenticity of material in nature of our design. We want to be the future eye in the real estate world which balances the innovation and quality of living standard with the fast growing world. We have a set of skills that can make a common man who doesn't know how to be, can call himself a developer in our way of working as per the resources available to him like knowledge, education and finance. We draw the line on paper with the surety that it will make the masterpiece in the sky that can be recalled and reimagined again.   
We have an eye for design, the creativity to make something unique, and the technical know-how to build a solid and functional structure. If you want to find the right balance of innovation and great skills you'll need the right people to do so. That's where we introduce ourselves to the world. We are the Designers, that brings your imagination into the reality. We work on people's believes over us.