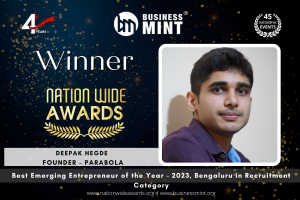 Deepak Hegde is an engineering graduate who is very passionate about entrepreneurship. His start-up Parabola is an end-to-end recruitment solution & Payroll management company, serving the Corporate Sector.
To streamline the hiring process and give employers and corporate recruiters additional options, Parabola provides a wide range of HR services. It has a cutting-edge technological solution with a distinctive voice-based approach that streamlines the hiring process. While Parabola Talent is a Candidate Hiring solution, Parabola Voice is designed to reduce time for the HR team. The other significant segments include Parabola Payroll, Parabola Campus, Parabola Outsource which provides staffing solutions for various sectors in multiple locations.
This innovative idea was duly honoured by Nationwide awards and Deepak Hegde was recognised as the Best Emerging Entrepreneur of the year -2022 in the Recruitment and Payroll Management Category. Deepak is also vested in start-ups relating to education and healthcare sector.