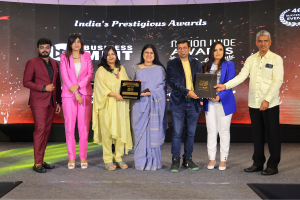 In the bustling world of architecture and design, one name shines brightly with a vision of "Architecture for All" – Architect Dr Nishant Nathani, the founder of NOVEL ARCHITECTURE AND ENGINEERS. With a passion for excellence and an insatiable appetite for learning, Dr Nishant has carved a remarkable journey in the industry, establishing himself as a seasoned Architect, Town Planner, Interior Designer, and Valuer.
Armed with triple Master's degrees, including B.Arch., M.Arch. from IIT Roorkee, M.Plan. from ITPI, New Delhi, and PG in Construction Management from NICMAR, along with a PhD in Traffic & Transportation, Dr Nishant's knowledge and expertise are unparalleled. His contributions to the academic community with over 15 international research papers, some indexed in SCOPUS, reflect his commitment to advancing the field.
His accolades extend beyond academia, as he holds memberships with esteemed government agencies across India, such as the Council of Architecture (COA), Institute of Town Planner India (ITPI), Indian Institute of Architects (IIA), Institute of Valuer (IOV), MCD-Municipal Corporation of Delhi, Bruhat Bengaluru Mahanagara Palike (BBMP), Karnataka Industrial Areas Development Board (KIADB), and Uttar Pradesh Awas Evam Vikas Parishad.
With a dedicated team of 20 talented and hardworking individuals, NOVEL ARCHITECTURE AND ENGINEERS has been honoured with several National Level Design Competitions for its remarkable contributions to nation-building. Their portfolio boasts an impressive array of projects, including 100+ Residential and Interior projects, 50+ International Schools, 10+ Hospitality buildings and interior designs, and 04+ Town Planning projects, catering to both government and private sectors across India and internationally.
One unique aspect of their approach is likening themselves to umpires in the game of cricket. They vouch for transparency, acting as fair decision-makers between contractors (batsmen), vendors (bowlers), and clients (spectators). Their commitment to transparency extends to installing CCTV cameras onsite, serving as third umpires 24×7, and ensuring flawless project execution.
A standout feature of their design philosophy is their expertise in scientific Vedic Vaastu, which harmoniously blends science and Vastu principles with proper light and ventilation. This holistic approach brings wealth, prosperity, and positivity to the spaces they design. Their focus on minimizing construction costs through the use of natural and sustainable materials aligns with their mission to create environmentally responsible architecture.
Dr Nishant's vision is not only limited to architectural excellence but also encompasses his dream of becoming the highest-paid employer in the fraternity, setting new benchmarks for the industry.
Driven by a belief in the potential for growth in architecture, planning, and scientific Vaastu, NOVEL ARCHITECTURE AND ENGINEERS actively seek business collaborations to foster positive impacts on the industry. Their commitment to building lifelong relationships with clients and stakeholders exemplifies their dedication to excellence.
In conclusion, Architect Dr Nishant Nathani's journey is a testament to the power of knowledge, passion, and the pursuit of excellence. With an unwavering focus on providing "Architecture for All," he continues to elevate the field of architecture and inspire the next generation of architects and designers