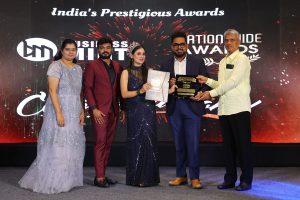 Rohan School of Music has been selected as the winner of the Business Mint Nationwide Awards – 2023 in the category of the Most Admired School of the Year, Bengaluru. RSM is an Online Music Institute that aims to redefine online music teaching and learning and create a space where the journey of learning music is efficient as well as enjoyable.
The CEO of RSM is Rohan Dutta, a music entrepreneur and professional music instructor hailing from West Bengal, India, who has been taking wild strides in the arena of online music education. RSM has bridged the gap between in-person and online sessions using digital infrastructure, where they provide one-to-one sessions by professional faculties with specialization in performance and music theory over cutting-edge learning tools and mediums.
RSM provides an opportunity to get certified by Trinity Guildhall, Rock School London (RSL), London College of Music (LCM), and ABRSM, and takes care of the entire process from enrolment of the learner to the handing over of their degree certificate. They prepare students for graded music examinations and ensure that each of their students gets the best grades from the top internationally acclaimed music colleges.
The signature course offered by RSM is called LEAP, which stands for Learn-Enjoy-Accelerate-Perform and has shown guaranteed satisfaction and success results among students. One of their students, Aahana Patasani, holds a record-breaking 99% score in her Trinity certificate. The LEAP method is suited best for teenagers and adults who prefer fast-paced interactive growth rather than the slow grind of learning basics. The courses offered by RSM cover instruments like Keyboard, Piano, Vocals, Guitar, and Violin, and range across genres like Western Classical, Western Contemporary, Bollywood and regional Indian songs. The biggest push for RSM, according to the CEO, would be to be able to promote and uphold music literacy and prolonged satisfaction in this age of instant gratification.
RSM's vision is to have a co-existence of the values of the past along with the technology of the future to create a present learning environment that is cohesive to the requirements of both traditional as well as new-age learners. They offer both the traditionally followed courses, which you can opt to learn from the beginning, and fast-track courses for those who would like to resume their practice or just continue a hobby of playing instruments. While RSM started as a school that specifically taught NRI learners, now it has become a global online school catering to music lovers of all ages and nationalities (Indian as well as foreign). RSM also offers free sessions and community workshops for the underprivileged and for those interested in learning the basics; and has a future goal of building a piano course that caters to children with special needs