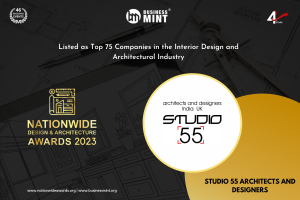 Studio 55 is a young design oriented practice working in the fields of architecture and interior design. We enjoy conceiving a new design based solution for each project based on its individual characteristic and context. During this process we explore new materials, forms, finishes and push for better spatial qualities and dynamics. It is driven by the principles of integrity and quality and firmly believes in delivering socially and environmentally conscious designs.
Studio 55 has formed a design association with Raymond Hall Ltd. based in London and Hall Black Douglas based in Belfast, UK. Ideally placed to deliver efficient and high quality architectural, interior and urban design in India, we bring together decades of experience and have a shared reputation for quality and integrity.
We are currently working on projects in Ethiopia and Dubai as well.
Girish Mohile
B'Arch, MA Architecural Studies (UK)
Being a co founding partner of Studio55, Girish enjoys working on various architectural projects and on the complex challenges it brings along.
Having worked as an associate with Raymond Hall Ltd. in London, he has been fortunate to work on the rebuilding of Crystal Palace in South London. This association also helped him join hands with Hall Black Douglas architects, UK to work together in India. His architectural experience ranges from Commercial, Residential and SEZ architecture to Masterplanning.
Siddharth Rajurkar
B'Arch, MA Interior Design (UK)
Siddharth's role as a partner in the practice requires a high degree of commitment and expertise at a strategic and operational level. Having worked with Purcell architects at their London office, he had the opportunity to work on various historic buildings across the UK.