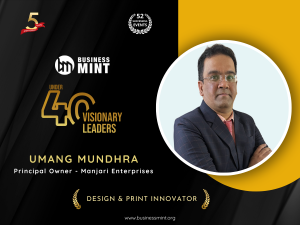 Umang Mundhra Setting Benchmarks all the way
In January 2005, during an evening after completing his graduation and successfully passing the MBA entrance examination, this 23 old young guy inspired by articles in a leading business magazine decided to embark on his entrepreneurial journey. However the path ahead was far from clear. He pondered over which business to pursue, which city to establish himself in, and under whose guidance to seek for his initial learning experiences. After spending more than two weeks contemplating these decisions, a guiding light emerged in the form of his father's cousin. It was under his mentorship that the young man discovered the potential of his father's business of Annual Report printing. From that moment on, Umang Mundhra – Principal Founder of Manjari Enterprises, a prestigious Kolkata-based company specializing in Annual Report and educational book designing and printing – embarked on an incredible journey of progress and success.
During the initial months of his career, Umang received assistance from one of his former neighbours, which helped him secure some notable clients. These clients included a major Ferro Alloy manufacturer from Eastern India, a prominent stock trading and brokerage firm, and a leading CA coaching institute based at Kolkata, all of which were renowned entities in 2005. Since then, Umang's success has been continuous, as he gained recognition and popularity among Kolkata's prominent corporations and professional coaching institutes. With a strong vision and determination to establish Manjari Enterprises as a comprehensive annual report design agency, Umang began immersing himself in the trends and concepts of presenting annual reports. To accomplish this, he requested free hard copies of annual reports from listed companies on NYSE & NASDAQ and diligently collected colourful report copies from his associates, as well as purchasing random copies from local "raddiwalas". He made his initial breakthrough with prominent business enterprises in Kolkata. His effective low-cost business strategy enabled him to establish a strong presence in the emerging field of stakeholder's communication. Subsequently, he commenced serving clients across various sectors such as Cement, Power, Engineering, Food & Beverages, Financial Services, Hotel, Infrastructure, Iron & Steel, Jute, Paper, Plywood, Petrochemicals, Real Estate, Recycling, Tea, Textile, and Transport.
There is a saying "When the going gets tough, then the tough gets going". The onset of the Covid-19 pandemic served as a valuable learning experience for this enterprising individual. Despite experiencing significant losses in revenue, it did not deter him from forging ahead and making additional investments in print and design infrastructure. Through unwavering determination, he not only earned the trust and loyalty of both existing and new clients but also managed to regain pre-pandemic levels of revenue. Today, his company has flourished into a fully-fledged financial reporting design agency well backed by in-house print section, a trait that only a few financial reporting agencies in India possess.
Throughout his 18-year journey, the reports designed by his agency have gained recognition both domestically and globally. He has achieved great success by consistently printing millions of annual reports and other shareholder communication projects. Moreover, his Company recently obtained ISO 9001-2015 certification from QRO, thereby reaffirming his continued dedication to excellence.
Umang is of the opinion that present-day companies are engaging in communication with different stakeholders while being mindful of their responsibilities. Among the vast multitude of listed companies across different stock exchanges, only a mere 20% have succeeded in formulating their reports with efficient communication tactics. Recognizing the expanding prospects in this area and the increasing awareness and knowledge surrounding efficient investor communication, he is confident that his team can produce high-quality and highly benchmarked reports in the future.