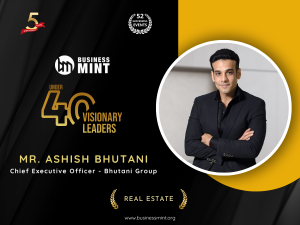 Mr. Ashish Bhutani, Chief Executive Officer at Bhutani Group

Mr. Ashish Bhutani, an esteemed corporate leader with over decade years of experience in the real estate industry, serves as the Chief Executive Officer of Bhutani Group. His dynamic leadership and visionary approach have been instrumental in driving the company's success and shaping its position as a frontrunner in the real estate sector in India.
Under his astute guidance, the Bhutani Group has attained remarkable milestones, earning widespread acclaim. Notably, projects such as Cyberthum, Bhutani TechnoPark, and Alphathum have redefined excellence in the commercial real estate segment.
Mr. Bhutani's commitment to social responsibility is commendable, as evidenced by his active involvement in various philanthropic endeavors through the company's dedicated Corporate Social Responsibility (CSR) arm, Bhutani Care. Initiatives aimed at education, healthcare, and Environment exemplify his unwavering dedication to making a positive impact on the community and society at large. Under his guidance Bhutani group has adopted a government school in Noida, under its vidya care program, which focuses on primary education initiatives for underprivileged children and to upgrade the infrastructure and quality of education.  Moreover, he prioritises the well-being of the company's workforce, organising regular eye checkups and providing essential provisions like food and medicines.
Through his visionary leadership, Mr. Ashish Bhutani has not only scripted an impressive success story within the real estate industry but has also forged enduring relationships with a loyal customer base that places unwavering trust in the Bhutani Group for their investment needs. Known for his customer-centric approach he has successfully delivered state-of-the-art real estate projects. His expertise lies in visualizing the projects of the future and using the latest technology to make a mark in the world of real estate development.
Recognised as an influential figure within the real estate industry, Mr. Ashish Bhutani has received numerous prestigious awards and accolades. Recently, he was awarded the "Most Promising Business Leaders of Asia 2022-23" by The Economic Times, which recognized the outstanding achievements of top business leaders in Asia. He was also honored with the "ET Inspiring CEO of the Year" by Economic times ET EDge, acknowledging his significant contributions to both the business world and society as a whole.
In 2022 & 2023, he was honored as the "Entrepreneur of the Year" by Entrepreneur India, celebrating his remarkable achievements and exemplary leadership in the sector. Furthermore, Mr. Bhutani has also received the Lifetime Achievement Award from The Bharat Gaurav Award Foundation in the same year. These esteemed recognitions bear testament to his relentless dedication to uplifting the lives of the underprivileged through Bhutani Care, as well as his exceptional contributions to society.
With a distinguished educational background, Mr. Bhutani holds an MBA degree from the University of Cardiff, United Kingdom, and a Bachelor's degree from the University of Sheffield, United Kingdom. His international education and extensive exposure to global real estate markets have endowed him with a profound understanding of industry best practices, which he adeptly applies to the company's projects.