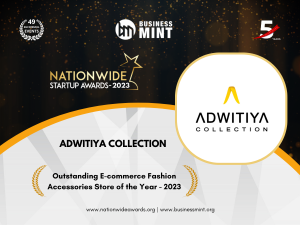 The saga of Adwitiya Collection encapsulates a resolute spirit capable of transforming adversities into triumphs and conclusions into new beginnings. Guiding this narrative is the Founder and CEO, a visionary whose unyielding determination birthed a fashion empire against formidable odds.
Initially charting a course towards a conventional Chartered Accountancy path, destiny intervened, reshaping her trajectory. Fueled by an intrinsic passion for jewellery, she embarked on an entrepreneurial voyage armed with a mere Rs. 17,000, giving rise to Adwitiya Collection – a brand poised to revolutionize fashion jewellery.
Navigating through initial stumbling blocks, she swiftly adapted to the emergent realm of online commerce. Showcasing her products on platforms such as Amazon expanded her reach, despite the digital landscape's trust-related challenges. Unperturbed, she persevered, serving as a living testament to her unwavering resolve.
In the face of financial obstacles, she turned inward for introspection. With reluctance from friends, family, and in-laws to support her online venture, these setbacks became stepping stones for introspection. Simultaneously pursuing her CA degree and with her husband's unwavering support, the brand not only endured but thrived, showcasing her unrelenting entrepreneurial fervour.
Hurdles like exam setbacks and the relinquishment of her CA journey only fueled her determination further. Reclaiming her business, she meticulously revamped her strategies. The brand's resurgence on Myntra marked a pivotal juncture, aligning her perseverance with the evolving e-commerce landscape.
Fueled by the support of her husband and a dedicated team, a culture of collaboration flourished. Manoeuvring through the intricacies of cataloguing demonstrated the potency of teamwork. Challenges were confronted collectively, paving the path for unparalleled growth.
Amidst the challenges posed by the pandemic, Adwitiya Collection not only survived but thrived, achieving an astonishing turnover of 3.5 crores in a span of 18 months. This triumph personified the founder's resilience, adaptability, and unwavering commitment. Branded as "The Unreal Gold Jewellery," each creation resonates as a blend of visual allure and a symbol of status.
Looking to the future, the founder remains steadfast in her pursuit of excellence, with aspirations of global expansion and product diversification. Her voyage echoes the sentiments of Aamir Khan's character in "3 Idiots," emphasizing that the quest for excellence transcends the mere pursuit of success.
For Adwitiya Collection, this journey encapsulates profound insights. Every step, from leadership to global market penetration, contributes to its evolution. Upcoming ventures include