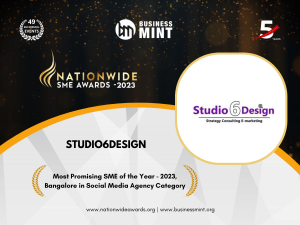 Studio6Design, a creative and innovative firm, specializes in delivering a diverse range of services tailored to enhance businesses online presence. The company's commitment to excellence and innovation sets it apart as a reliable partner for enterprises striving to excel in the digital market.
With office locations in Pune, Bangalore, Gurgaon, and Dubai (as of 2023), Studio6Design has expanded its operations internationally, ensuring a broader reach and better service coverage for its clients. The company's recent extension to Dubai demonstrates its continuous growth and commitment to meeting global market demands.
Studio6Design takes a comprehensive approach, offering 360-degree brand solutions to businesses of all sizes. Recognizing that branding encompasses more than just a logo and tagline, the company focuses on creating a unified and consistent message that resonates with the target audience. Their team of experts provides a wide range of branding services, guaranteeing that every aspect of a brand aligns with the company's goals.
The suite of branding services offered by Studio6Design includes:
Brand Strategy: Through meticulous research and analysis, Studio6Design collaborates with clients to craft a strategic brand plan that effectively communicates with the target audience and aligns with the company's mission.
Brand Identity: Studio6Design emphasizes the significance of a distinct brand identity, comprising elements such as logo design, color palette, typography, and other visual elements that consistently convey the brand's personality and values.
The company provides various collateral materials to establish and promote a brand:
A well-designed logo that encapsulates the essence of the company.
Thoughtfully selected typography that reinforces the brand's messaging and personality.
A brand style guide outlining the consistent application of the brand identity across all materials.
A professionally designed letterhead for business correspondence.
A social media profile design for consistent brand representation.
A coherent color palette that reinforces brand recognition.
Expert advice on imagery selection to best represent the brand..
In addition to branding services, Studio6Design provides a variety of services under distinct categories: Business Consulting, Digital Marketing, Content Strategy & Marketing, and Website & App Development & they include sub-domains.
Finally, Studio6Design's varied service offerings, together with its dedication to innovation and excellence, make them a reliable partner for organizations looking to prosper in the digital market. Studio6design is a Godaddy partner, Zoho, Salesforce, Constant Contact and Leadpluss with a wide range of services, strategic insights, and a holistic approach to branding. Studio6Design enables businesses to develop a strong online presence and communicate with their target audience successfully.