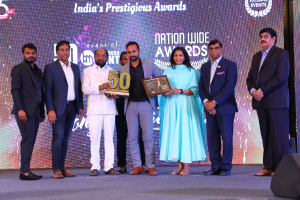 Ambarish Anand: A Catalyst for Service Delivery Excellence and Digital Transformation
Forging Operational Brilliance and Embracing Digital Innovation
Ambarish Anand, a visionary leader in service delivery and digital transformation, exemplifies the power of unwavering dedication and innovative thinking. With 16 years of remarkable achievements, Ambarish has orchestrated multi-million dollar projects, harnessed digital evolution, and consistently driven remarkable business growth.
Unleashing Excellence with Precision and Passion
Ambarish's journey is a tapestry of extraordinary accomplishments that position him as a standout in the industry. At Ericsson, he orchestrated a remarkable 20% YOY increase in financial efficiency on a substantial $100 million project, earning him the prestigious President's Award. His mastery in digital transformation yielded an impressive 30% Opex cost reduction, achieved through strategic deployment of cloud technologies, RPA, chatbots, and user journey monitoring.
Navigating Complex Service Delivery Landscapes
As Senior Delivery Manager at DSM Firmenich, Ambarish's impact is undeniable. Under his guidance, a comprehensive service portfolio underwent a revolutionary transformation. Customer satisfaction (CSAT) surged from 4.1 to an impressive 4.8, and the FSI score soared to an astonishing 98%. His adept vendor management, including global giants like HCL, Microsoft, Accenture, and Acolad, showcased his ability to orchestrate intricate collaborations. Implementing Agile methodologies, he achieved a monumental 40% automation for shared services, infusing efficiency and agility into every facet of operations.
Championing Innovation and Catalyzing Transformation
Ambarish's contributions transcend conventional boundaries. He introduced proactive user journey monitoring powered by cutting-edge Dynatrace technology, slashing Turnaround Time (TAT) from 3.3 to 1.8 hours. This stands as a testament to his unwavering commitment to operational excellence. His ingenious approach led to a commendable 30% Opex cost reduction, seamlessly blending cloud solutions, RPA, EDM, Mendix, and cybersecurity.
Empowering Growth and Pioneering Change
Ambarish's journey is marked by transformative initiatives. Spearheading automation through Chatbots and RPA, he significantly curtailed manual efforts by an impressive 12% YOY. Notably, his advisory role in process optimization for a financial services firm resulted in a remarkable 40% reduction in transaction processing time, leading to annual savings of around $40 million and an exceptional 50% surge in customer satisfaction.
Leading the Way to Future Triumphs
Ambarish Anand's remarkable journey symbolizes leadership, resilience, and innovation. As a distinguished recipient of the Most Prominent Service Delivery Consultant of the Year – 2023 in Hyderabad by Prestigious Business Mint and the Most Emerging Service Delivery Excellence Leader award at the esteemed Global Leaders Summit 2023 by Bizox, New Delhi, his impact is unequivocal.
Embracing an Exceptional Future
With an unwavering commitment to innovation, Ambarish Anand stands as a trailblazer who continually pushes boundaries. His track record of driving 200% business growth within three years underscores his exceptional leadership. Steering multiple projects worth $100 million globally (MBNL UK, Du Dubai, Zain KSA, Telefonica UK) to success reflects his prowess in fostering continued business growth.
Ambarish Anand's journey is a testament to how visionary leadership, meticulous execution, and profound digital transformation can elevate businesses to unparalleled heights. As organizations navigate the ever-evolving landscape, Ambarish's contributions pave the way toward a brighter, more efficient, and technologically advanced future.