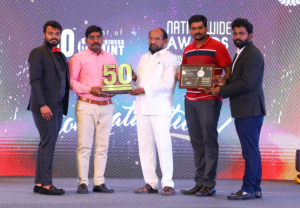 Tizola, India's pioneering ISO-certified Food Delivery App, has emerged as a transformative force in the food delivery landscape. Founded by the visionary entrepreneur Suresh Balusu, Tizola has become a beacon of professional, speedy, and reliable food delivery services in India, cementing its reputation as one of the most promising food-related companies of 2021.
In the wake of the nationwide lockdowns triggered by the COVID-19 pandemic, Tizola seized the opportunity to not only survive but thrive in a challenging business environment. Suresh Balusu's brainchild was born out of a desire to provide hygienic food delivery solutions that adhered to strict pandemic protocols. Tizola quickly gained traction as a lifeline for food enthusiasts, rapidly ascending to become the fastest-growing food ordering platform in the southern states of India.
What sets Tizola apart is its unwavering commitment to democratizing the digital food delivery ecosystem. The company is on a mission to empower small restaurants across India by providing them with a seamless and cost-effective online expansion platform. By offering technical support and eliminating the need for substantial financial investment, Tizola has become a lifeline for local restaurants, ensuring their survival and growth in the digital age.
Under the visionary leadership of Suresh Balusu, who drew inspiration from the success stories of Ramoji Rao Garu and Kotirddy Saripalli, Tizola has embarked on a journey to revolutionize food delivery in India. The company's franchise model has taken root in rural markets, offering aspiring entrepreneurs a low-investment, high-impact business opportunity. Tizola franchisees benefit from comprehensive branding support, making it easier for them to establish a strong presence in their local markets.
Tizola's commitment to both customers and restaurant partners is exemplified by its prompt payment to restaurants and reasonable commission rates. Unlike some competitors, Tizola charges customers the same prices as restaurants, fostering trust and loyalty among its user base.
As Tizola continues its expansion, it remains dedicated to its core values of teamwork, innovation, and social impact. By creating employment opportunities and facilitating the growth of small restaurants, Tizola is not only revolutionizing food delivery but also contributing to the economic empowerment of individuals and communities across India. With an impressive track record of 75,000+ downloads and over 150,000 orders fulfilled, Tizola has been rightfully recognized as a game-changer in the food delivery industry. As it sets its sights on nationwide expansion, Tizola is poised to redefine the future of food delivery in India.