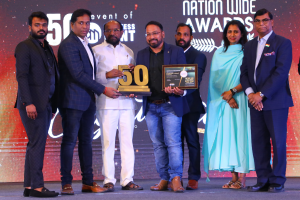 CorpOne BPO and  CEO Durga Prasad Madausu: A Two-Decade Legacy of Excellence
CorpOne BPO, a pioneering force in the Business Process Outsourcing (BPO) landscape, embarked on its journey in 2005 with a monumental achievement—establishing GE Countrywide's inaugural call centre. Sixteen years later, it has blossomed into an industry giant with an impressive array of services spanning telecom, banking, healthcare, customer service, Pharma, real estate, and more, transcending geographical boundaries.
Today, CorpOne BPO stands as a multifaceted entity delivering an extensive spectrum of services such as Inbound and Outbound call services, Back Office support, Customer Support Services, Transaction Processing, Payroll Management, Collections and receivables Management, Digital Marketing, and Remote Infrastructure Management. A robust team of 1000+ skilled customer service professionals, proficient in various languages and dialects, is at the forefront of delivering unparalleled customer experiences. Notably, CorpOne BPO boasts a remarkable capacity to handle over half a million calls daily, a testament to its operational prowess.
CorpOne BPO has garnered notable accolades, including being named the leading SME in the BPO arena by DUN and Bradstreet. The company's commitment to excellence is further affirmed by its ISO 9001:2000 and 2008 certifications, reflecting its unwavering dedication to quality and performance.
A pivotal figure in CorpOne's trajectory, Durga Prasad Madaus (often referred to as DP), is the Chief Executive Officer. With more than a decade of steadfast leadership, DP brings a wealth of experience spanning over 21 years, including tenure at Vodaphone prior to CorpOne. Regarded for his meticulous attention to detail and astute oversight of operational intricacies, DP's contributions range from client onboarding and successful piloting to surpassing client expectations.
Under DP's stewardship, CorpOne BPO has achieved remarkable strides. DP's implementation of structured processes across various operational levels has ensured consistent visibility and control over service delivery, even across multiple sites. Moreover, DP's purview extends to sales, marketing, and expanding market presence, encompassing sectors like telecom, education, banking, and insurance.
One of DP's most impactful legacies lies in his role as a transformative leader. He has shaped CorpOne BPO into an industry powerhouse and uplifted thousands of individuals from diverse backgrounds. By providing a gateway for students and young individuals with limited qualifications and communication skills, DP has bestowed upon them the opportunity to thrive in the corporate world.
As CorpOne BPO continues redefining industry standards and DP's visionary leadership drives its growth, its legacy as an enabler of opportunities and a champion of exceptional customer experiences remains unwavering.