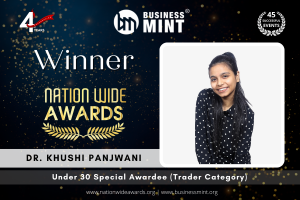 Dr. Khushi Panjwani: A Trailblazing Entrepreneur and Accomplished Author and an astonished finance content creator 
Dr. Khushi Panjwani is a name that resonates with innovation, success, and inspiration. As an accomplished author, Fin-Tech entrepreneur, trader, and NSE-certified investor, Dr. Panjwani has left an indelible mark on the world of business and finance. With a dynamic career spanning multiple industries, her achievements have earned her numerous accolades and recognition on both national and international platforms.
A visionary in her field, Dr. Khushi Panjwani has been honored with over 100 awards for her exceptional contributions to entrepreneurship and business. These prestigious accolades include the Humanitarian Excellence Award, Best Entrepreneur of the Year Award, and the Kalam Ratna Award, among many others. Each award serves as a testament to her unwavering dedication, ingenuity, and outstanding achievements in the world of business.
Dr. Panjwani's relentless pursuit of excellence extends beyond her entrepreneurial ventures. She is also a world record holder for public speaking, as recognized by the Forever Star Book of World Records and the Vajra World Record. Her captivating speeches have earned her opportunities to speak at esteemed platforms such as TEDx, IIT, IIM, DU, AIESEC, and top B-schools, inspiring and empowering countless individuals with her powerful words.
As a prolific author, Dr. Khushi Panjwani has showcased her expertise and knowledge in the realms of finance and entrepreneurship. Her book, recognized as a bestseller and awarded the title of "Best Non-Fiction Author of the Year," has provided invaluable insights and guidance to aspiring entrepreneurs and finance enthusiasts. She has been honored with the Author 50 Under 50 accolade, further solidifying her status as a literary luminary.
Dr. Panjwani's contributions to the world of finance have been recognized with a gold medal in finance and the prestigious Certified Financial Planning (CFP) certification. Her prowess as a trader and investor has earned her the Booming Bulls Conclave Award for Trading and Finance, as well as the Rashtriya Prerna Award for Best Entrepreneur of the Year.
With a global reach, Dr. Khushi Panjwani's work has garnered extensive media coverage, with over 100 national and international features. Her passion for entrepreneurship, coupled with her innovative mindset, has established her as a beacon of success and inspiration for aspiring entrepreneurs worldwide.
Beyond her entrepreneurial endeavors, Dr. Panjwani's humanitarian efforts have earned her the Independent Indian Icon Award and the Most Prestigious Plath Memorial Women Award. These accolades reflect her commitment to making a positive impact on society and uplifting those in need.
Dr. Khushi Panjwani's remarkable journey showcases her unwavering dedication, exceptional skills, and relentless pursuit of excellence. She continues to make significant strides in the fields of entrepreneurship, finance, and literature, leaving an indelible mark on the world and inspiring future generations of trailblazers. As an influential figure, she has rightfully earned her place among the prestigious ranks of Entrepreneur 40 Under 40 and Bestseller Author 50 Under 50. With her unwavering passion and commitment, Dr. Khushi Panjwani is set to create a lasting impact on the world for years to come.