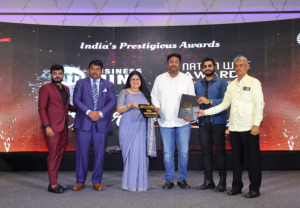 Fenster Solutions, powered by Aluplast, is a leading German uPVC window and door fabrication company based in Bangalore, India.
Under the leadership of Harish Reddy, Founder and CEO of Fenster Solutions, the company has grown exponentially in a short time by working extensively with leading developers, architects, and retail clients. In addition to their collaborations with architects and builders, Fenster Solutions also partners with institutions such as schools and hospitals as they demand products that prioritize safety and durability.
Fenster Solutions' offerings include a meticulously crafted and highly durable wide range of German uPVC, Aluminium & Cladding products for doors, windows, and facades. Fenster Solutions uPVC windows and doors are one of the few players in the Indian market that offer 16+ laminated hues, enhancing both design and practicality.
With an unwavering commitment to quality and a relentless pursuit of innovation, the company has completed over 40 projects with an impressive fabrication area of 40,000+ square feet.
What makes the company unique is the willingness to go above and beyond to forge relationships with clients, understand design and develop tailored solutions that exceed their expectations.
The company focuses on educating people in the construction ecosystem and individual retail clients on the importance and benefits of investing in premium doors and windows for their spaces. They are on a mission to make premium the next affordable.
By incorporating the latest technology and materials, Fenster Solutions ensures that its products satisfy aesthetic preferences and demonstrate remarkable longevity and reliability.
uPVC is short for unplasticized polyvinyl chloride. This material is often used in windows and doors due to its durability and resistance to pollution, moisture, corrosion, and mold. Compared to timber or aluminium windows, uPVC solutions have numerous benefits, including better heat and sound insulation, sustainability, higher security and strength, and a longer lifespan.