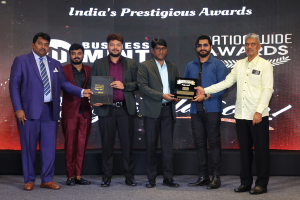 INFY GROUP, a renowned real estate partner, was established on October 5th, 2022, by the visionary entrepreneur Shri Balaraju Sikha, who possesses a wealth of experience in the real estate industry. This company has rapidly become a trusted name, known for providing comprehensive real estate products and services. INFY Group's success can be attributed to its unwavering commitment to trust, transparency, and innovation, which has helped them secure a reputable position in the competitive market.
From its humble beginnings with just two associates, INFY Group has experienced exponential growth, boasting an impressive team of over 8,000 associates today. Throughout their journey, they have achieved remarkable milestones, having sold more than 1,00,000 square feet of real estate valued at a staggering Rs 107 Crores. Additionally, they have disbursed approximately Rs 7 Crores in commissions, a testament to their dedication to rewarding their associates fairly.
With decades of experience under their belt, INFY Group has earned the confidence and trust of their customers and stakeholders alike. Their portfolio features a wide array of successful projects, reflecting their commitment to excellence in every aspect of the real estate sector. Their long-standing presence in the market makes them a reliable choice for both individual homebuyers and investors seeking lucrative opportunities.
INFY Group takes pride in offering an extensive range of real estate properties, meticulously designed to cater to diverse needs. From luxurious residential properties and modern apartments to elegant villas, spacious commercial spaces, and serene open plots and farmlands, they have it all. What sets them apart is their strict adherence to regulatory norms and guidelines, with all their projects duly approved by prominent regulatory authorities like TSRERA, HMDA, and DTCP.
While sales remain a significant aspect of their operations, INFY Group goes beyond traditional real estate companies. They also excel in property management, ensuring the smooth functioning and maintenance of their projects, leaving their customers worry-free. Moreover, their innovative marketing strategies have played a crucial role in reaching a broader audience and establishing a strong market presence.
Beyond the boundaries of the Indian real estate market, INFY Group aims to create global connections and opportunities through strategic partnerships. Their international ventures open up new possibilities for investors and individuals looking to expand their real estate portfolio beyond national borders.
In conclusion, INFY Group's journey from a modest start to a prominent real estate player is a testament to their dedication, hard work, and customer-centric approach. With a focus on trust, transparency, and innovation, they continue to flourish in the industry, providing top-notch real estate products and services to a wide range of clients. As they stride forward, their commitment to excellence remains unwavering, and they are poised to leave an even more significant impact on the real estate landscape in the years to come.