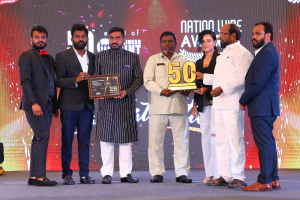 Khaja Ustad Cooking and Catering Services is very well known in the world of elegant and mesmerising food. It is a renowned name to anyone who wants to delight his guests with traditional mouth savouring authentic hyderabadi food with innovative and eye-catching presentations. Khaja Ustad Cooking and Catering Services has been in the field of cooking and catering services since 1980 and has proven their worth in not only well known restaurants like Hotel Shadab and Hotel Nayaab among others but also provided their services in Fateh Maidan club, Film Nagar Cultural centre and other renowned places.
Shareef Ustad, the son and successor of Khaja Ustad started his career from a young age and in the guise of helping his father, started learning from the taste master Khaja Ustad himself. He has taken to new heights his father's namesake business Khaja Ustad cooking and catering services.
With the large variety of cultures present in Hyderabad, the father and son duo has been catering to different cultural demands and requirements of their customers. Khaja Ustad Cooking and Catering Services' customers and venues range not only in different parts of Hyderabad or Telangana but various cities throughout India. Customer's events not only range across the length and breadth of the country but also covers all walks of life from Childbirth, birthday, marriage with all related events to even political gatherings and public meetings.
Khaja Ustad Cooking and Catering Services have mastered the art of fulfilling their customers' demands ranging from small scale family gatherings of a few people to large scale marriages to finally huge political events of tens of thousands of people. Each event is fulfilled successfully and implemented beyond the expectations of the customers.
Taking into consideration the changing times and the demands of the new generation, Khaja Ustad Cooking and Catering Services has been constantly innovating new varieties of food and presentation techniques. He is a pioneer in the concept of live tandoor, metre kebabs and many such tasteful dishes with unique presentation styles, which impress the youth and elders alike. Shareef Ustad has also taken up active and regular showcasing of their work on social media which has helped many customers in planning their orders and thus creating a lifetime memory for them.