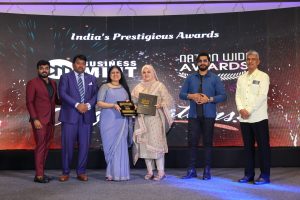 Neha Fathima is a name that resonates with success and innovation in digital marketing. It's no secret that her unwavering dedication and relentless pursuit of excellence is the reason that she has earned the prestigious title of "Most Promising Women Entrepreneur of the Year – 2023, Bengaluru" in the Digital Marketing category.
With her astute business acumen and visionary leadership, Neha has transformed Aimglobal into a powerhouse of creative strategies and cutting-edge solutions. Under her guidance, the company has flourished, delivering exceptional results for numerous clients across various industries.
Aimglobal was started 7 years ago by Miss Neha Fathima as a venture to do something of her own. She always knew that she could lead and we couldn't agree more. With previous experience in IOS development, websites, mobile apps and all things digital, a leadership quality like no other, and the immense support of her family, Aimglobal- A Digital Marketing company took shape. Dealing with all things digital and technology-driven, Neha has left no stone unturned to make Aimglobal reach a prestige position and make it one of the most sought-after Digital Marketing agencies in Bangalore. Even after 7 years, Neha still has the same zeal to do something extraordinary and commendable to make Aimglobal no.1 everywhere and she is clearly succeeding at it.
With a team of 36 members, who diligently work to assure the client business goes upward and onwards at all times, Aimglobal strives to serve its clients nothing but the best of its services which range from Digital marketing services to Theater Advertising, to website development, Aimglobal does it all.
Aimglobal is striking a chord with not just clients based in Bangalore or India, but with clients based outside of India, namely UAE, and the USA, among various others. Some of the top clients that Aimglobal is catering to include Holiday Inn, Ajmal Perfumes, Menakart and Books Venue among others.
Aim Global has come a long way and without Neha's dedication and hard work, it wouldn't be possible for it to strive and become the best among the rest! Neha's remarkable achievements in the realm of digital marketing stem from her deep understanding of market dynamics and her ability to leverage the latest technologies and trends. She possesses an innate talent for crafting persuasive campaigns that resonate with target audiences and drives real business growth.
Beyond her professional accomplishments, Neha Fathima is an inspiration to aspiring entrepreneurs, particularly women, who look up to her as a role model of determination and resilience. Her success story serves as a testament to the power of passion, perseverance, and an unwavering belief in one's capabilities.
Let us applaud this exceptional woman who continues redefining the boundaries of success in digital marketing.