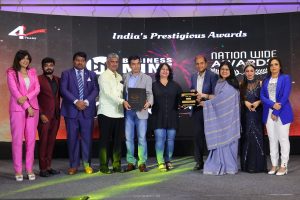 The company is a 14-year-old venture led by the married couple, Shruti Gangabasi and Subranil Gangabasi. While Shruti, with a passion and qualification in interior design, oversees the creative aspect of the business, Subranil, known for his management skills and qualifications, handles the business side. They are supported by a capable team responsible for design, construction, and project/operation management, with Guruprasad heading the operations. The company's design philosophy revolves around Human Centric Design (HCD), aiming to strike the right balance between science, lifestyle, emotions, and budget while considering future usage.
Their turnkey interior solutions rely on integrated project management practices and in-house developed innovative processes and tools, ensuring every square foot is enriched with lasting value through personalized interior design solutions.
The company's approach focuses on humanized and personalized design, water-tight integrated project management, and operational excellence, which creates unique home and office experiences for customers. Their upcoming 4000 sqft experience centre is designed to enhance customer understanding of interior design work and the value they receive.
One of the company's key differentiators is its commitment to absolute customization, tailoring every aspect of the design to meet the specific requirements of each customer. They eschew templatized or assembly line designs, treating each project as unique and special. This is achieved through their Human Centric design approach, which involves capturing every aspect of human behaviour, preferences, demographics, ergonomics, and intangible needs to create scientifically sound and emotionally resonant designs.
The company stands out in the competitive market due to their unique design approach, highly customized solutions, and the ability to help customers understand and visualize their dream spaces. They invest in training their designers to maintain consistency and uniformity in their custom designs.
Their business philosophy revolves around humanizing spaces for clients and fostering a harmonious balance among all stakeholders, both internal and external. Despite facing challenges in its pursuit of personalized designs, such as indefinite requirements, time constraints, frequent changes, and a lack of skilled designers, the company relies on its well-established project management and quality processes to overcome obstacles and stay true to its beliefs.
These challenges serve as sources of inspiration, pushing them to set and achieve even greater goals and objectives in the future.