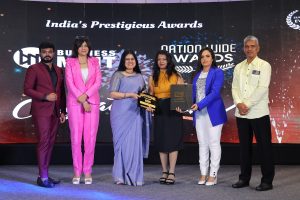 Arunima Maity ( born and brought up in Durgapur, West Bengal), is the daughter of Mr. Malay Bikas Maity (Former DSP Physics Lecturer) and Mrs. Gouri Maity (Boutique Owner).
She is the sister of Mrs Ayanima Maity (an IT Professional) and the wife of Mr Biplab Kumar Mandal (Senior Manager, HAL). She completed her MTECH from NIT Durgapur with a top score of 95.8 % (scoring 100% in her research work) and has published 2 research papers on swarm robotics, in IEEE & ICIST. She had worked in companies like IBM, and Microsoft and now working on Green Software in a multinational company.
She has onsite experience in France while working with IBM and had also participated in Guinness World Records. She holds a Senior Diploma in Kathak and got training in Contemporary dance style from Terence Lewis Institute of Mumbai. She is a proud Mother of three sweet children: Aarush, Abhipsha and Aarvika.
Arunima has been selected as a finalist in Aura Mrs. India 2023 and her aim in life is to stand out amongst the crowd to empower women and masses and help the underprivileged children to gift them with a better life.  She gives immense importance to self-love and meditation and takes free sessions. She is also a Motivational Speaker. Her motto of life is: 'Honesty is the best policy' –As it gives her the inner strength to face every situation of life fearlessly."