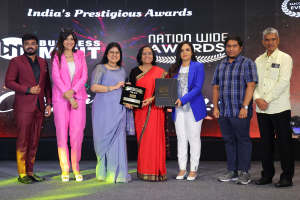 Rangalakshmi Srinivasa, a remarkable individual with a passion for education, laughter, and community service, has made significant contributions to various fields and earned accolades for her achievements. With a Bachelor's degree in Instrumentation Technology from SICE, Mysore University, she embarked on a journey of excellence that has left a lasting impact on countless lives.
As the Secretary and Principal of the Basaveshwara Educational Institute, Rangalakshmi played a pivotal role in its success. Her leadership and vision transformed the institute into a centre of excellence, empowering students with knowledge and skills for a brighter future. Under her guidance, the institute thrived, nurturing young minds and preparing them to face the challenges of the ever-changing world.
Beyond her academic pursuits, Rangalakshmi's determination and talents have earned her a place in the esteemed Guinness World Records, Asia Book of Records, and India Book of Records. Her extraordinary accomplishments in various areas have set her apart as a true trailblazer and source of inspiration for others.
As a Certified International Laughter Yoga Trainer, Rangalakshmi has been spreading joy and positivity through her laughter yoga sessions. Having conducted laughter yoga sessions for over 1,40,000 people offline and 35,000 people online, she has brought smiles to the faces of numerous individuals, helping them experience the therapeutic benefits of laughter.
Motivating and empowering others have always been close to Rangalakshmi's heart. Through motivational classes, she has instilled confidence and a sense of purpose in high school and college students, encouraging them to chase their dreams and aspirations fearlessly. Additionally, her dedication to uplifting women from diverse backgrounds has made a positive impact on countless lives, inspiring them to overcome obstacles and achieve their goals.
Adding yet another feather to her cap, Rangalakshmi is also a talented stand-up comedian. Her performances at public events like Rajyotsava, Ganeshotsava, exhibitions, and food festivals have entertained and delighted audiences, proving her versatility and unique ability to bring joy to people in various ways.
Rangalakshmi's creative expression finds its outlet in her Kannada poetry and writing. With articles published in newspapers and a book titled "Matte Ugadi," she has captivated readers with her literary prowess and shared her thoughts and experiences in a way that resonates with others.
Her charisma and talents have not gone unnoticed in the media either. Rangalakshmi has graced television channels such as DD Chandana, Ayush TV, and Star Suvarna, showcasing her multifaceted abilities and captivating audiences with her engaging presence.
Beyond her professional achievements, Rangalakshmi remains deeply committed to social and community work. As a Management Trustee of Greens Innovator and Vice President of the Classic Road Runners Athletic Club, she actively engages in initiatives aimed at making a positive impact on society. Her dedication to serving the community has garnered respect and admiration from all quarters.
Recognized for her outstanding contributions, Rangalakshmi has received several prestigious awards, including Saadhana Prakasha, Nation Builder, Kannada Seva Rathna, Indian Women Achievers Award – 2021, and many more. These awards are a testament to her unwavering commitment and determination to make a difference in the lives of others.
Her passion for promoting physical and mental well-being also led her to participate in the International Day of Yoga event in Mysore in 2022, where she joined the celebrations under the leadership of Prime Minister Sri Narendra Modi. This event highlighted her dedication to promoting a healthy lifestyle and fostering a sense of unity and harmony among people.
In conclusion, Rangalakshmi Srinivasa is a dynamic individual whose diverse talents and unwavering dedication to education, laughter, and community service have touched the lives of many. From transforming the Basaveshwara Educational Institute to spreading joy through laughter yoga and empowering individuals through motivational classes, her journey is a testament to the power of determination, creativity, and compassion. Her accolades, world records, and numerous achievements speak volumes about her impact and influence, making her a true inspiration to all those who have had the privilege of crossing paths with her