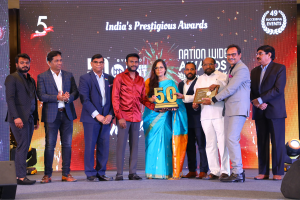 "The Wedding Voyages" has emerged as a prominent player in the wedding planning industry within the subcontinent. Under the capable Stewardship of Shri. Someshwer, this company has traversed a remarkable journey in the world of weddings. With a history dating back to 1988, Someshwer's accidental involvement in event planning began with the celebration of a Little Angel's first birthday on the 1st of May 1988 in Visakhapatnam, (Manali Pattem) fondly called as Minnie. This humble start eventually led to the handling of Minnie's wedding in 2013, solidifying The Wedding Voyages' position as a trusted family member for countless bride and groom families.
In 1999, Rajeswari joined the team after getting married to him, firmly grasping the reins of the well-established business, and together, they navigated through the ever-evolving wedding industry. While the past two decades witnessed the rise and fall of numerous competitors, TWV remained steadfast, thanks to its parent company, Event Nine, which weathered all storms.
The dawn of new technologies in 2010 brought both opportunities and challenges. The corporate sector recognized the need for organization in this traditionally disorganized industry, causing many novices to re-evaluate their foray. However, The Wedding Voyages stood as a beacon of reliability, offering end-to-end Wedding Celebration solutions. From venue selection to dance choreography, priest arrangements, and special services like décor, photography, and makeovers, TWV left no stone unturned.
The year 2020 brought unprecedented challenges with the outbreak of COVID-19. TWV, like many others, was forced to pause momentarily. Yet, they emerged stronger by clearing debris, adapting, and making the necessary changes to stay resilient.
Despite the setbacks, the pre-COVID era had propelled TWV toward stardom. While COVID-19 disrupted their journey, it couldn't extinguish their spirit. In 2021, they cautiously ventured back into the market, realizing that their expertise still had immense value. With the pandemic fading, they began taking on fresh projects, marking resurgence.
The years 2021-23 proved pivotal for TWV, witnessing the successful execution of corporate events and destination weddings. Their commitment to excellence and adaptability bore fruit, setting a positive tone for the future. As they charter their course for the next five years, "The Wedding Voyages" sails confidently, ready to create unforgettable and everlasting memories for countless couples. Their journey is an inspiring tale of resilience, determination, and an enduring magic of love.