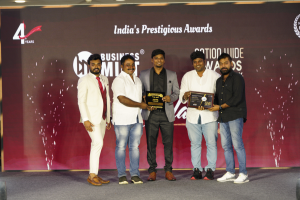 Basilic Fly Studio (BFS) was started by a nuclear team led by – Balakrishnan.
The idea…
In 2011, the founder realized that there was an increase in the demand for cost-efficient
VFX services, Companies were looking towards cheaper destinations like India to outsource the work but there was a dearth of high-quality VFX shops in the country. At that time, Indian VFX companies were primarily focused on the domestic market, and a very small proportion of companies were run by corporates. Hence, there were very few companies to cater to the potential volume of work.
Through their network of relationships, the founders ensured that they could capitalize on these opportunities and establish a reputed brand in VFX in India.
The first steps…
Being bootstrapped, the company was launched with a team of 5-6 members. These professionals were handpicked by the founders based on their prior working relationships and came from leading VFX studios in India. This laid the foundation of a strong core team that helped groom and train talent over the years into a larger team.
The three pillars and their roles…
Over the years, the founder took up the crucial role of ensuring that the company establishes itself as a reliable name in VFX services. MD and CEO Balakrishnan took care of business strategy, client relations, broker management, and other strategic roles. COO and Director Yogalakshmi took the mantle for ensuring operational efficiency and management and Director Prabhakar took control of all creative aspects of the company.
Challenges along the way…
Being bootstrapped in a quality and time-sensitive industry can result in numerous challenges. As an organization, BFS has always believed in stepping out of its comfort zone and taking on complex projects regardless of the challenges they bring. The learnings have helped them evolve and grow as a unit. During the pandemic, the company rose to the challenge and seamlessly migrated from in-studio operations to remote operations without impacting the quality of the output or the delivery timelines. During this period, BFS went on a recruitment spree due to the increased volume of work and scaled up from a team size of 150 to 400+.
Our Growth…
What started as a compact unit has now grown into a large organization with around 500+ Individuals and offices in Chennai, Pune, London, and Vancouver. The international offices were established to service the clients better and give them a local point of contact for a quick resolution of queries. In 2016, we registered Basilic Fly Studio Private Limited as a non-government company under The Companies Act, 2013.