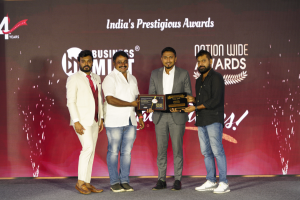 "An Audiophile is a person who is enthusiastic about high-fidelity sound reproduction. An audiophile seeks to reproduce the sound of a live musical performance, typically in a room with good acoustics".
Our Vision:
To be a Premium Education provider in the field of Sound Engineering and the only institution to bridge International standards of learning customized to the Indian Music Industry.
Our Mission:
We strive to ensure a quality learning experience and make it affordable to all. Our fully equipped studio and exposure to practical training will enrich your study experience. We also provide a platform for our students to associate with Professional musicians in order to gain real-time experience. Our Industry Certified faculty will guide you through the program to chase your dream in the Music Industry.
Academics:
Our International Curriculum is bridged to the Indian Music Industry. The Curriculum provides career-focused programs with an industry focused externship that prepares our students for work in their respective fields. Our study uses engaging and innovative programmes/methods like Hands-on practical approach, Real-time Projects and Studio Visits which enable students to contribute significantly to the Music Industry.
Our Campus:
Our Campus is located in the heart of Chennai City in a nature filled campus. The campus boasts of a Technology biased state-of-the-art Studio to cater to todays high-end outboard gear, Microphones, Acoustics and ambience. An integrated Focusrite Red Lab is also available to the students for their Practical work
Student Life:
The Audiophile's School of Sound Engineering believes that Audio Engineering is more than a discipline – it's an art. We at TASE continually strive to enhance our student experience and support our students to reach their full potential. Students at TASE are part of a Music community of artists and problem solvers passionate about the field of Audio, and making innovative and artistic productions. Our students don't just learn the skills associated with Audio Engineering – they actually get in the door of the industry where they can make connections and find ongoing works. Our community is ever growing and helping each other in their journey.