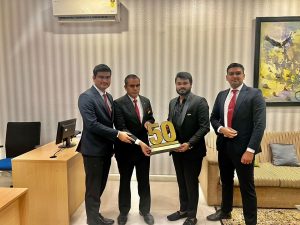 Nestled within the affluent Banjara Hills of Hyderabad, Taj Deccan stands as an elegant oasis catering to the discerning tastes of both leisure and business travelers. Encompassed by six acres of meticulously landscaped gardens, the hotel's strategic location offers convenience, positioned a mere 35-40 minutes away from the Rajiv Gandhi International Airport and 5 kilometers from the railway station. Embracing a rich history and modern allure, the hotel is approximately 19 kilometers from Secunderabad.
Graced with 151 well-appointed and spacious rooms, including 10 exquisite suites, Taj Deccan ensures a comfortable and luxurious stay for its guests. The establishment proudly boasts six versatile conference rooms, among them a distinguished boardroom, capable of accommodating gatherings ranging from 15 to 500 attendees. For larger events, the lush verdant lawns provide a captivating backdrop, accommodating up to 1,500 individuals for cocktails and receptions.
The hotel's charm extends beyond its physical attributes, as it offers a seamless blend of old-world charm and contemporary sophistication. Taj Deccan treats its visitors to a harmonious symphony of personalized services and impeccable amenities. From the moment one steps into the lobby, adorned with hand-cut crystal chandeliers and cove-lighted ceilings, the international and contemporary ambiance captivates the senses. The Lobby Lounge adds to the inviting atmosphere, offering a perfect space for relaxation.
The assortment of accommodations caters to various preferences. From the Superior Rooms with their array of amenities to the Residency Rooms with exclusive lounge access, each guest is assured a memorable experience. Suites, from the Junior Suites with pool and lawn views to the lavish Presidential Suite boasting grandeur in its design, elevate the stay to unmatched luxury.
Dining at Taj Deccan is an exploration of flavors and culinary artistry. From the international offerings of Arena, the contemporary South Indian delights at Spice Junxion, to the serene ambiance of Atrium Bar and the enchanting Syn Asian Grill and Bar, every dining experience is an unforgettable journey of taste.
Taj Deccan's commitment to hosting impeccable events is evident through its state-of-the-art conference facilities. The array of well-equipped venues, including the sprawling lawns, Kohinoor, Pavilion, and Synergy, cater to diverse event requirements. The seamless fusion of heritage and modernity, accompanied by top-notch services, establishes Taj Deccan as an unparalleled destination for those seeking refined luxury in the heart of Hyderabad.