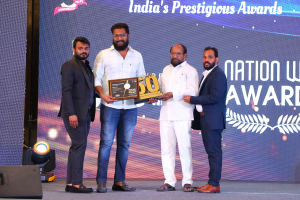 Skyhy Live Lounge, situated in the heart of Gachibowli, Hyderabad, emerges as a vibrant and captivating haven for those in search of top-notch entertainment and an exuberant atmosphere. With its inception dating back to 2015, this establishment has seamlessly carved its name among the premier destinations for individuals seeking a perfect blend of dynamic music and quality leisure.
The hallmark of Skyhy Live Lounge lies in its enthralling live performances, skillfully orchestrated by a lineup of gifted musicians and bands. The resonating notes and energetic rhythms form an enchanting symphony that envelops guests in an immersive experience, leaving an indelible mark on their memories. Sporting aficionados are not left behind, as they can partake in the live screening of events like the IPL or Football finals, amplifying the lounge's aura with a palpable sense of excitement.
Delving into the culinary offerings at Skyhy Live Lounge unveils a diverse array of delectable choices spanning Chinese, Continental, and North Indian cuisines. Whether one's preference gravitates towards à la carte delicacies or the lavish daytime buffet, the culinary selection caters to an eclectic range of palates. The menu is elegantly complemented by an impressive beverage lineup, showcasing a spectrum of refreshing mocktails, innovative cocktails, beers, and spirits. These libations are thoughtfully curated to harmonize with the gastronomic delights, thereby elevating the overall dining venture.
Skyhy Live Lounge, ever attuned to the pulse of its patrons, extends facilities such as complimentary Wi-Fi access, ensuring seamless connectivity for its visitors. The establishment places a paramount emphasis on adhering to legal drinking age guidelines, underscoring its commitment to responsible consumption of alcoholic beverages.
For those seeking an avenue to unwind, immerse in live entertainment, and savor exquisite culinary creations, Skyhy Live Lounge Gachibowli stands as an unrivaled choice. It embodies a vivacious ambiance where moments are woven with the threads of lively tunes, sumptuous flavors, and conviviality. In the heart of Hyderabad, Skyhy Live Lounge beckons with its promise of creating enduring memories against a backdrop of exuberance and allure