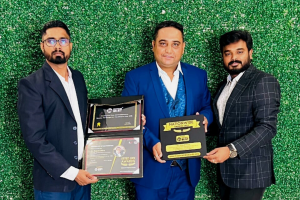 Mr Rajesh Mitra is a distinguished and accomplished professional with a remarkable track record in the field of security and safety. As the current Chairman of High-Class Security, he has demonstrated exceptional leadership and expertise in various aspects of security management, making him a prominent figure in the industry. With over 15 years of experience, Mr Mitra has developed an extensive skill set that includes investigation, industrial relations, networking, and a strong rapport with the police and state government officials.
An active member of the Bangalore Apartment Federation, Mr Rajesh Mitra is deeply involved in community development and is dedicated to creating secure and safe living environments. His passion for creating a secure society extends beyond just residential areas, as he is also an active member of the BNP Bangalore, working towards implementing robust security measures across the city.
Throughout his career, Mr Mitra has established himself as an astute entrepreneur with a keen eye for business planning, operations, and decision analysis. His experience in managing diverse teams of professionals in the field of communication and security has earned him immense respect from his peers and subordinates alike. His ability to lead and motivate teams has been instrumental in achieving successful outcomes in various security projects.
Among his many accomplishments, Mr Rajesh Mitra has undertaken the critical task of analyzing and planning security setups for major client locations in Bangalore. With his expertise, he has devised comprehensive security solutions that ensure the protection of assets and personnel, earning him high praise from clients and peers alike.
Notably, Mr Mitra has also lent his services to international organizations, showcasing his global appeal and ability to adapt to diverse environments. He has contributed his security insights and strategies to organizations such as Bagmati Higher Secondary School in Kathmandu, Nepal, and Brunei Shell Petroleum in Jalan Utara, Panagia, Darussalam, Brunei. Furthermore, his expertise has been sought after by IMS Health in Bangalore and several other multinational corporations both in India and abroad.
What sets Mr Rajesh Mitra apart is his unparalleled insight into all aspects of the security industry. His vast experience has equipped him with a profound understanding of the intricacies involved in maintaining the safety and security of various establishments. This, combined with his networking skills and connections with law enforcement agencies and government authorities, has enabled him to develop innovative security solutions that are effective and efficient.
In conclusion, Mr Rajesh Mitra's journey in the security industry has been nothing short of extraordinary. His leadership, entrepreneurial spirit, and deep expertise have contributed significantly to the safety and security of numerous establishments, both in India and abroad. As he continues to make a lasting impact in the field, it is evident that his unique experience and insights will continue to shape the security landscape, making the world a safer place for all.