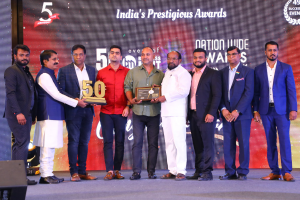 OneGolf specializes in state-of-the-art automated golf bays, granting every visitor the freedom to engage in golf at their own pace without the hassle of scheduling tee times or sharing the range with others. Additionally, the establishment cultivates a warm and convivial atmosphere, enabling visitors to relish a range of delectable food and beverage options as they partake in the sport.
OneGolf has emerged as a year-round attraction for foodies, beer lovers and golf enthusiasts, newcomers alike, who are out seeking a blend of golf, entertainment, and culinary delights.
While innovatively tackling the scarcity of expansive venues suitable for celebrations, it offers a spacious pool with massive lawn areas that complement the picturesque golf range and are capable of accommodating up to 500 attendees. Making for a remarkably spacious setting to host gatherings, parties and social celebrations.
OneGolf also serves a variety of food options that suit different tastes, creating a friendly environment where people can socialize with friends and family for a longer time and indulge in the pick that appeals to their tastebuds.
The automated golf bays simplify accessibility to the game amidst the sprawling concrete jungle of the city, breaking down entry barriers that can discourage newcomers. Moreover, the focus on a multitude of culinary options and diverse entertainment choices establishes an all-inclusive destination that resonates with the dynamic and fun-seeking crowd of Hyderabad.
Concocting nothing but good times, the brewery has another range that keeps its visitors coming back for more of It's their beer range, and it holds a unique experience brimming in every glass and pitcher that comes to the table. From experimental sips like pomegranate cider and seasonal serves like a watermelon with beer, the OneGolf brewery keeps the buzz alive all year round.
The events that make a lively weekend at OneGolf are ones to never miss. The stage is reserved for individual artists who showcase their talents in an intimate setting. These performances allow guests to soak in the raw and authentic style of solo musicians, creating a relaxed and inviting ambience on Thursdays.