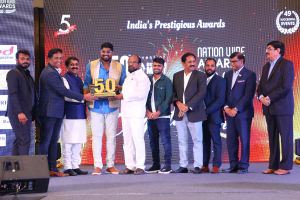 It all started with the investment of 3 lakhs by Suhas B Shetty in 2003. He had a dream of creating a delicious and sustainable ice cream that would benefit both people and the planet.
Suhas B Shetty started small, selling his ice cream in a small room in Nellore, a tier 2 city in Andhra Pradesh.
The first few years were tough. But he didn't give up. Suhas worked for long hours and travelled all over the country to promote his brand. He also empowered 40+ women from the local villages and gave employment to more than 20+ men from the nearby villages and towns.
He worked hard and eventually his business grew.
Today, Iceberg Organic Ice Creams has expanded to 150+ stores across the country and with 100Cr + valuation delivering 45+ SKUs to the organic & conscious food customer zones.
The company has two offices, the head office in Hyderabad and the branch office in Bangalore. They are completely bootstrapped and have not raised a single rupee to date.
Iceberg Organic Ice Creams have partnered up with local farmers to ensure that its ingredients are grown in an environmentally friendly way.
The company's product innovation is constantly evolving. In addition to regular flavours like bean vanilla and dark chocolate, Iceberg Organic Ice Creams also offers a variety of desi fruit flavours like Sitaphal (custard apple), tender coconut, jackfruit, and chikoo.
They also have traditional Indian flavours like Gulab Jamun, Sheer Khurma, and Badam Kheer. They have even more innovative flavours like charcoal, sugar-free, and keto.
The company is committed to giving back to the community.
Recently, Iceberg Organic Ice Creams has hosted giving away ice cream to 1000+ students at T-Hub in Hyderabad to celebrate National Ice Cream Day 2023 and to thank the customers for their support.
Iceberg Organic Ice Creams' ultimate objective is to become the leading provider of delicious ice creams, that are more sustainable, and affordable in India.
They use A2 milk and A2 butter, which are higher in nutrients than conventional milk and butter. They also use Dhaga mishri, which is an unrefined & purest form of sugar that is free of molasses.
Iceberg Organic Ice Creams is the healthier, more sustainable, and more delicious choice for you!
This company is making a difference in the world of ice cream.
IceBerg, an Organic ice cream company is well-positioned to continue to grow in the years to come, as more and more consumers are becoming interested in healthy and sustainable food options.