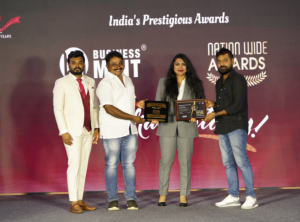 Priyanka Gupta is one of the burgeoning figures in the financial sector. A rising star in the field of product-focused digital strategy Priyanka works for IIFL Home Finance Ltd. as the digital strategy product manager. She has over 5 years of seasoned professional experience, and she has a thorough understanding of the technical and strategic needs in product management spanning the banking and finance industries. She has held a number of managerial positions throughout India with the goal of creatively transforming digital tactics and creating successful products for the smooth functioning or onboarding of customers from all walks of life.
Currently, she works for IIFL Home Finance Ltd, a division of IIFL Finance Ltd, one of India's top financial services providers. IIFL offers small-ticket or affordable housing loans, secured MSME loans, and project loans.  She coordinates as well as navigates teams across numerous product management sub-functions, including internal customer onboarding application software, consumer insights, the efficient operation of digital platforms that go directly to customers, technical and development teams, support teams, etc.  She is the go-to expert for advice on brand-building strategy, digital strategy planning, business development planning, pitching for the group, assessment of acquisitions, data analytics, and representing IIFL across several committees within and across digital platforms.
Priyanka's diverse experience has given her a well-rounded view of the Banking and financial services industry. Her strong passion combined with gentle humility shines through her words, making them inspiring and relatable.
IIFL Finance Limited (hitherto referred to as IIFL) (NSE: IIFL, BSE: 532636) is one of the leading players in the financial services space in India. Together with its subsidiaries – IIFL Home Finance Limited, IIFL Samasta Finance Limited (Formerly known as Samasta Microfinance Limited), and IIFL Open Fintech Private Limited, it provides a diverse range of loans and mortgages.These include home loans, gold loans, business loans, including loans against property, medium and small enterprise financing, microfinance, developer & construction finance, and capital market finance, catering to both retail and corporate clients.
The company has a nationwide presence with a thriving network of 3,119 branches across 500+ cities. She is constantly looking for new challenges. She has always been proficient at carrying out any task with an achievable outcome, and she prefers to do it. She has several positive qualities that make her a fantastic person, some of which include modesty, understanding, and progressivism. "Nothing makes me feel better," Priyanka stated, "than seeing how women are accelerating their growth pathways in every arena across all avenues and setting an excellent example." Women today are so much more educated, confident, and lead by example. "We hope that by making sustainable efforts now, future generations will benefit and have more fulfilling lives."