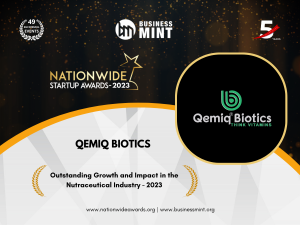 Qemiq Biotics stands out as an innovative nutraceutical company dedicated to producing functional foods and health supplements that offer extra health benefits. Within the landscape of Indian nutraceutical companies, Qemiq Biotics has swiftly ascended the ranks, becoming one of the fastest-growing entities in the field. Their distinctive approach involves crafting products that deliver physiological advantages and bolster protection against chronic diseases.
Every product manufactured by Qemiq Biotics is imbued with the power of natural ingredients, ensuring a gradual and sustainable impact on the body. Unlike quick fixes, the supplements offered by Qemiq Biotics operate in harmony with the body's intricate systems. This symbiotic relationship facilitates a natural detoxification process, ridding the body of toxins and averting malnutrition.
The genesis of Qemiq Biotics can be traced back to a need for enhanced education and awareness surrounding health supplements. The company was driven by a mission to enlighten the masses about the significance of nutrition. This impetus was further fueled by a growing societal consciousness regarding physical appearance and well-being, motivating Qemiq Biotics to forge ahead in its journey. The company's current focus centres on solidifying its brand presence and expanding its product portfolio to reach a wider market on a global scale.
Armed with state-of-the-art manufacturing facilities, Qemiq Biotics has garnered a dedicated following spanning the globe. The burgeoning nutraceutical industry in India aligns well with the company's vision of fostering a healthier nation. Qemiq Biotics endeavours to extend its product offerings beyond India's borders, catering to an evolving consumer base that demands quality healthcare and a robust lifestyle.
Qemiq Biotics upholds uncompromising standards of quality across its supply chain, from sourcing premium raw materials to packaging and distribution. The company's commitment to safety and efficacy is unwavering, ensuring that its products consistently meet the highest benchmarks.
Among Qemiq Biotics' notable nutraceutical ranges are SELECT PROTEIN POWDER, MULTI-DAILY PRIORITY, and CALCI PLUS ESSENTIAL. The company relentlessly pursues excellence and adherence to international standards while maintaining affordability.
At its core, Qemiq Biotics is customer-centric, consistently striving to deliver unparalleled products. Their dedication to quality is evident throughout their process, from scientific research and development to manufacturing and timely delivery. The company's exceptional commitment has earned it recognition from prestigious organizations worldwide, solidifying its reputation as an industry trailblazer.
Qemiq Biotics' achievements include ISO 9001:2015 certification for Quality Management Systems, Good Manufacturing Practice (GMP) certification, INDIA 5000 BEST MSME AWARDS, Business Excellence certification, and Certification of Compliance.
For those seeking the best in nutraceutical offerings, Qemiq Biotics emerges as an exemplary choice. Reach out to them via email at qemiqbiotics@gmail.com, contact them by phone at +91 8070089089, or explore their offerings on their website http://qemiqbiotics.com.