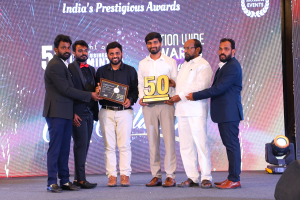 Dale Vihari Trips Pvt Ltd, founded by the visionary duo of Dr. Manoj K and Mr. Rohit Kumar Daroori, stands as a beacon of innovation in the realm of experiential non-hopping and rural tourism. With an impressive collective experience spanning over 40 years in travel planning, their agency has redefined the way people explore the world.
This dynamic team is intimately familiar with both the joys and challenges of travelling, and they have channelled this expertise into helping others plan their dream vacations. Whether it's arranging a cruise, securing plane tickets, booking accommodations, or creating a comprehensive travel package, Dale Vihari Trips Pvt Ltd is your trusted partner.
What truly sets them apart is their unwavering commitment to customer satisfaction. They prioritize open communication and are always ready to address any inquiries or concerns. Their aim is to cultivate long-lasting relationships with their clients, ensuring that every journey booked with them is nothing short of extraordinary.
Dale Vihari Trips Pvt Ltd specializes in curating unique life experiences that leave an indelible mark on travellers. They understand that travel is a deeply personal endeavour, and their dedication to crafting personalized trips ensures that each adventure aligns perfectly with the individual's desires and preferences.
Moreover, the agency's impeccable attention to detail and responsive service guarantees a smooth and uninterrupted travel experience. In any eventuality, their dedicated team is there to provide support and ensure that your trip remains a memorable and seamless affair. With Dale Vihari Trips Pvt Ltd, you're not just booking a vacation; you're embarking on a journey of a lifetime, backed by a team of passionate and experienced travel experts.